Last week we met Smith's swimming crab (Charybdis smithii), a rare visitor from the tropics that arrived in the southern reaches of False Bay during the third week of January 2019. We found some adult individuals at Long Beach, well inside False Bay, on 3 March.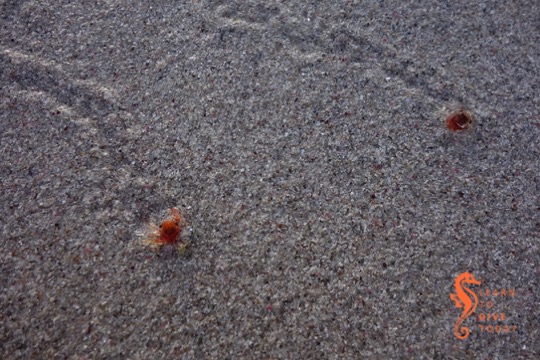 At the same time that fishermen were reporting adult Smith's swimming crab off Cape Point, a huge number of tiny red crabs washed up on Long Beach, Kommetjie. There were great piles of them, but we only managed to visit a day or two later on Friday 18 January.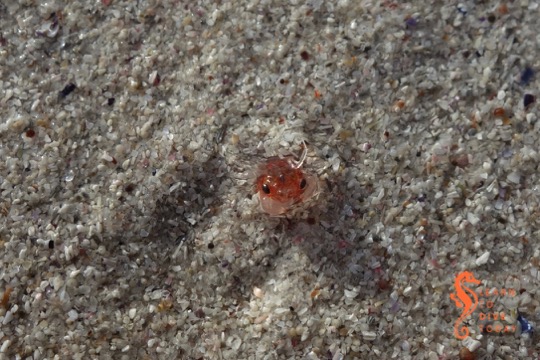 We had to hunt a little, but after a while we found the crabs – now only a few remaining, but most of them very active and vital. Opinion from George Branch is that these are most likely the final larval stage of Smith's swimming crab, and the same warm conditions wit anomalous westerlies that brought their adults to the peninsula, brought the juveniles.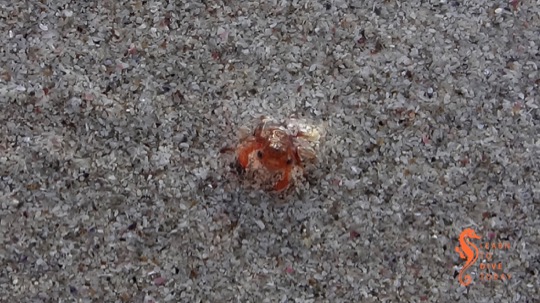 This conversation (facebook group, may be closed) suggests that the juvenile Smith's swimming crabs were also seen on Milnerton Beach around the same time as they appeared on the beach at Kommetjie.
I took a couple of short videos of the tiny crabs, which show them in motion on the wet sand.
[youtube="https://www.youtube.com/watch?v=Y24GrgOHrwc&w=540″]
Apologies for the loud wave noise and less than perfectly steady camera work. Read more about these pelagic crabs, exceptionally infrequent visitors to our shores, in this post.
[youtube="https://www.youtube.com/watch?v=XvnjhfdAHdA&w=540″]