Hi diving people
Last weekend
Last weekend we dived the SAS Fleur. This rates as the best wreck dive in Cape Town, in my book. It is closely followed by the MV Aster which we plan to dive and penetrate this weekend. Back to the Fleur: we did not have exceptional visibility (about 6 metres – Clare apologises for the dodgy pictures), and the current was quite strong at depth. But as we were doing a Deep Specialty, on Nitrox, this was a perfect site. We had lots of seals during the dive and many stayed with us during our deep stop and the extended 5 metre safety stop.
After the Fleur we did two dives at Long Beach, being dive 1 & 2 for Open Water students. We visited the new Lady Long Beach reef project being built by Pisces Dive Centre.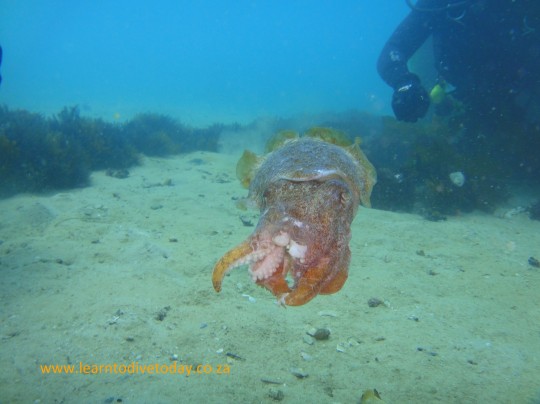 Many have heard of the sardine run, well Steve Benjamin from Animal Ocean will be doing a squid run, in Cape St Francis. Diving 25th Oct – 29th Oct (5 days), this is just as the Commercial squid season closes. Visit his website for more info and look at some of the sardine run photos.
This weekend
This weekend we are diving in Hout Bay harbour on Saturday morning as part of the clean up dive organised by OMSAC. Diving starts at 9.00 am and even if you are not diving come along and join the fun. The harbour will be alive with divers, boats and humans. This is also a very photogenic part of Cape Town so bring your camera.
If you plan to participate in the cleanup dive, you must register beforehand – visit the OMSAC website for more details.
You must ensure you have your dive card AND your MPA permit with you on Saturday.
We have booked two dives for the afternoon with Underwater Explorers (you may remember Alistair from this post). At 2.00 pm we will do a dive to the Aster wreck, lay lines and do some penetration. Entering the wreck is not for everyone and some of the divers will stay outside while a few of us are inside. We will also attach a few cyalumes as we are doing the second dive there at 6.30 pm.
There is still space on the afternoon dive but the night dive is almost full… Speak up quickly if you want to join. We will be making a day of it so bring chairs, braai stuff and chocolate. We have also ordered sun so bring sunscreen.
There are a lot of people doing these dives on Saturday so it's important you mail me to book any gear you want to rent. I have bought a few more wetsuits, BCDs, cylinders and regulators so I am sure we will manage but don't wait until Saturday to let me know what you need – I'll pack on Friday evening and leave home very early on Saturday. I also only have 6 torches to rent. You can of course go and buy these things from Andre's shop in Simon's Town – email him here!
Sunday we are doing dive 3 & 4 for Open Water and if conditions are good we will dive the Clan Stuart or Windmill. Meeting time will be 10.30 as all my cylinders will be empty from the night dive and I only have one bicycle pump.
Travel plans
The planning of a Mozambique trip is taking shape and within a few weeks we will have a solid plan. We will most likely go to Ponta Do Ouro and will do the same thing we did for the Sodwana trips: fly to Durban, rent cars and have cheap tents or upmarket chalet options for accommodation. Car sharing, tent sharing and sleeping bag sharing… are all options. If you missed the last two trips then you won't know how much fun we had but you can read all about it here.
(For more information on exactly what a salp is, check out Wikipedia. They're alive!)
Talks
There is a talk by Barry, the owner of Dive Action, at the Dive Action shop next Tuesday evening on diving in Norway with stunning pictures. Free, starts at 6.30pm.
On Wednesday night there is a talk at 7.00pm by George Branch, author of the classic The Living Shores of South Africa and expert on all things marine biology-related, at the Save Our Seas Foundation Shark Centre in Kalk Bay. The topic is evolution, and the cost is R50. (It's for a good cause and you also get soup and rolls.) Save Our Seas foundation does many things but the Kalk Bay centre focuses on shark conservation. They also have a marine tank that is amazing… You get to see that too. The talks here are always very good and worth the money.
Text me if you are coming to either talk (booking is essential for the Save Our Seas talk) and I will book for you and send you directions. (Well actually Clare will!)
regards
Tony Lindeque
076 817 1099
www.learntodivetoday.co.za
www.learntodivetoday.co.za/blog

Diving is addictive!