Hi everyone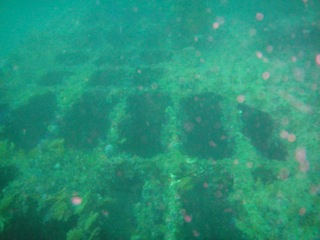 The weekend was a real humdinger and we started off with a early boat dive out of Miller's Point, seven of us all together and we visited the wreck of the SAS Transvaal in Smitswinkel Bay. The wreck, 94 metres long, lies in 34 metres of water and the top of the deck is at about 29 metres. Once we were down we dispensed with the deep skills for the guys doing their Advanced course and then cruised down the length of the wreck to the stern before starting back up to the dive boat.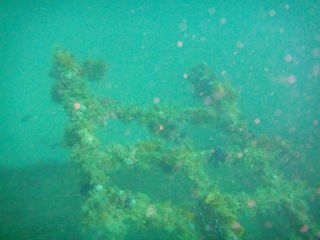 Besides the good viz of about 8–10 metres we were honored with three Southern Right whales waiting for us when we surfaced. There are more photos on the blog and Facebook of these huge whales and tiny divers less than 50 metres apart. The whales don't know the 300 metres regulations and we were forced to back away from them as they were totally oblivious of us. Coming face to face with such a majestic creature, in its own environment, relaxed and content to have us gawking is one of the many reasons diving is so rewarding. We were treated to them fluking, blowing broad V-shaped water fountains and diving around us. I would guess they were around 12 – 16 metres long. That is a lot bigger than the 9 metre rubber duck we were on. The skipperwas quick to get everyone on board and back slowly away from them.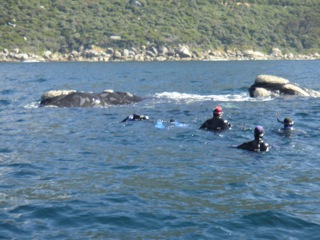 Fisherman's Beach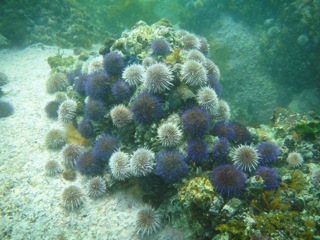 The day got even better and after lunch we dived and explored the site called Fisherman's Beach or sometimes called Froggy Pond. Clean white sand, an easy entry and several clusters of rocky reef make this an amazing site. We found a crevice in a small swim through that is home to a huge octopus and and he was very wary of us as I was on the one side of the opening trying to get a picture and Justin was on the other side peeking in. We were also treated to a very amusing feeding frenzy by a school of Fransmadam. I picked up a piece of kelp root and broke it into little pieces and they went wild snatching pieces from each other.
Long Beach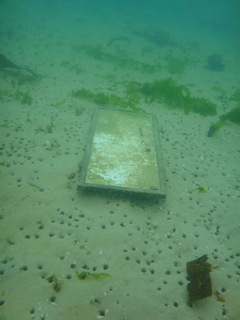 Today we dived at Long Beach and were able to confirm the hiding place of the pyjama catsharks with a photo. They are primarily nocturnal but are sometimes seen in the day. Over the last few weeks I have seen them in a small hideout a few times, never really sure of what I was seeing as it is a small opening. Today I put my video light in the opening and and held my camera in the entrance and took a few photos. They were sleeping stacked on top of one another.
We saw quite a few sea jellies, of different varieties, and lots of fish. It seems to be breeding season, as I also spotted a teeming mass of about 30 warty pleurobranchs the size of my fingernail – perhaps they had just hatched.
We were joined by Alexandra who has recently moved to Cape Town and has done lots of warm water diving. So the chilly Cape waters came as a bit of a shock!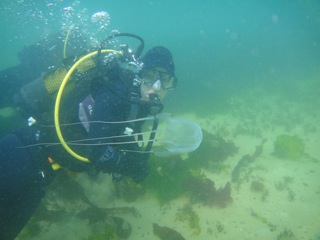 Diving this week
Tuesday: Peak Performance buoyancy,
Thursday: Seven gill cow sharks.
Friday: I want to explore the Kalk Bay Harbour wall.
I have students on Saturday and Sunday starting their Open Water course, but we will start after lunch so I am planning another wreck dive to one of the other wrecks in Smitswinkel Bay on Saturday morning. With boat dives I need confirmation by Wednesday night.
For the group joining me in Sodwana don't forget the dinner on Tuesday for final planning.
Have a good week and try and get wet, it beats sitting behind a desk, tell your boss you need a day of aquatic therapy, then come and dive, you will feel better the next day!!!
Permits: All divers need a permit, so please get yours at a post office near you.
Regards,
Tony Lindeque
076 817 1099
www.learntodivetoday.co.za
www.learntodivetoday.co.za/blog
Diving is addictive!