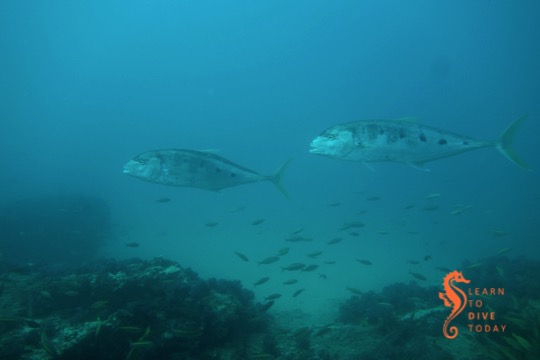 Doodles is one of our favourite reefs to dive when we visit Ponta do Ouro. It is different every time, and there is often so much happening in midwater that you don't know where to look. On one of our dives there during our recent dive trip to southern Mozambique, a school of talang queenfish swam past us at the edge of the reef.
This video starts out pretty dodgy – they were on the edge of what the visibility allowed us to see – but improves slightly towards the end. (The BBC wildlife unit isn't going to be calling me any time soon.)
[youtube="http://www.youtube.com/watch?v=dkgmV5n5R1o&w=540″]
Queenfish have venomous dorsal and anal fins, according to The Reef Guide, which was an enormous help during our trip. They are large, fast gamefish and look as "in charge" as yellowtail and tuna do as they swim quickly by.