Earlier this month we hosted a scuba diving birthday party in our pool, for a group of extremely excited eight year olds. It was a slightly chaotic but enormously enjoyable day! The boys first mastered the use of snorkels, making drawings on slates while submerged. We were impressed by how well they took to skin diving, and they rocketed up and down the pool like sea otters.
After that they tried out scuba gear, and we were amused by the various ways they found to enjoy themselves. One of the boys kept inflating his BCD because he liked the sound the over-pressure valve made. Another made foamy fountains of water by purging his octo in the shallows. Others seemed to feel like Jacques Cousteau as they explored the pool! We taught them how to inflate an SMB using their spare regulator, and brought out our collection of underwater cameras for them to take innumerable selfies and group portraits that they could take home with them.
Parties like this are ideal for small groups of four to six participants, as they are supervision-intensive and a small group lets each child fully enjoy their turn to try out scuba gear under the supervision of the instructor. A little bit of advance planning is recommended for the purposes of paperwork, so get in touch sooner rather than later if you think this is something your child might enjoy. We can conduct the event in your swimming pool at home if it's less than two metres deep, or at our pool. We have conducted a similar event at the Virgin Active gym, but that requires special permission. Be warned, the scuba diving bug might bite!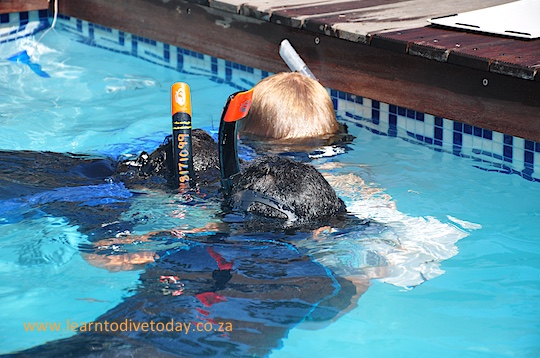 The PADI Bubblemakers and Seal Team programs are designed for kids aged 8-10, and enable them to master the use of scuba gear in the swimming pool. You can read more about those programs on the PADI website. From the age of 10, children can obtain a Junior Open Water qualification, which upgrades to a full Open Water qualification when they turn 15.
I've carefully chosen these photos so you can't identify the kids, hence their mixed quality! The big kid with the silver hair is Tony.