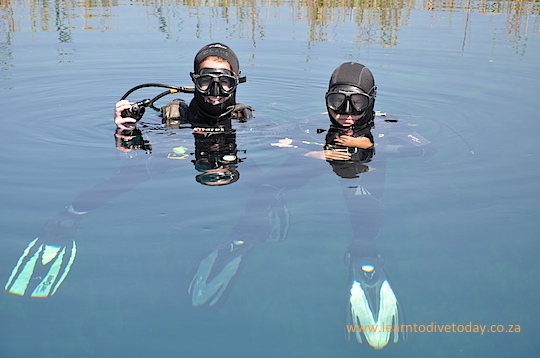 Who are we?
Tony is a PADI Master Scuba Diver Trainer and SDI instructor, who runs his own dive school called Learn to Dive Today, in Cape Town, South Africa. He has dived and worked all over the world – highlights being Mozambique, Jordan and Sodwana Bay in KwaZulu Natal, South Africa. He moved to Cape Town at the end of 2009, and has been working for himself ever since. He also runs a dive boat called Seahorse, which he uses for dive charters and any other boat charter work that comes along. Clare married Tony on 27 November 2010. She is a Divemaster, having started diving in July 2009. Her day job involves lots of numbers and Excel spreadsheets, but she tries to spend as much time in or near the ocean as possible. She has lived in Cape Town all her life.
Getting around
For more information about learning to dive or joining us on our dives in Cape Town, check out Tony's website. There's a complete sitemap if you scroll down any of the blog pages and look in the right hand column (under Categories). If you're considering learning to dive:
You can also read Tony's weekly newsletter on this blog – email him to sign up.
Want to chat? Use the form below, or leave a comment on any of our posts!
[contact-form to='clare@learntodivetoday.co.za' subject='Website contact: Blog'][contact-field label='Name' type='name' required='1'/][contact-field label='Email' type='email' required='1'/][contact-field label='Subscribe to weekly newsletter' type='checkbox' required='0'/][contact-field label='Subscribe to blog posts by email (check your email to confirm subscription)' type='checkbox' required='0'/][contact-field label='Message' type='textarea' required='1'/][/contact-form]