Sea Change: Primal Joy and the Art of Underwater Tracking – Craig Foster & Ross Frylinck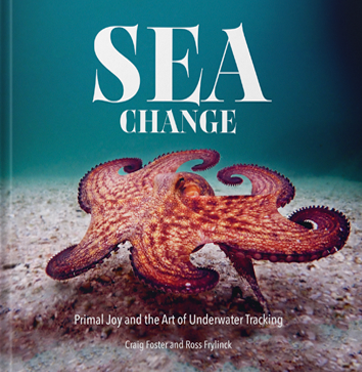 The Sea Change project may be familiar to you from their large format photographic displays, one of which was for a time along the promenade in Sea Point, and is currently in Lamberts Bay. You may have read about the project, or seen its members – ocean-loving filmmakers, journalists, scientists – diving in the cold water of False Bay year round, without wetsuits. You may even have seen the BBC's Blue Planet II series, in which the filmmakers, guided by Craig Foster and his fellows, captured an incredible octopus sequence filmed on our doorstep in False Bay.
The Sea-Change book has been a long time in the making, and is the product of hours upon hours upon hours spent in the water, observing the animals that call the kelp forests home. The book contains a story of loss and discovery – that of Ross Frylinck – interwoven with large-format photographs of scenes from the kelp forest, taken by filmmaker and naturalist Craig Foster, a co-founder of the Sea-Change project. Foster also provides the captions.
As a diver, it was immediately clear to me that a great deal of patience and close observation was required to gain the deep understanding that Foster has of the smallest creatures living among the kelp. There is no substitute for time in the water. There is no substitute for swimming slowly, deliberately, and for spending extended time looking at one place. The marks that animals leave on rocks, kelp stipes, the sand, and even on each other's shells, can tell a story.
I learned a huge amount about animal behaviour from this book, and about the interconnectedness of all the elements of the watery, beautiful world around the Cape Peninsula. The photographs are beautiful and striking, capturing moments that one would be extremely lucky to see during the normal course of things. Diving for more than an hour a day, every day of the year, however, makes such things more commonplace.
Sea Change presents a beautiful opportunity for the wider community of ocean lovers to learn from the unique approach taken by the Sea-Change team (this article gives a good sense of it), and to learn how to understand and observe the animals that surround us when we look beneath the surface of the inshore kelp forests. The project also has something to say about how science happens, and the vital connection between science and storytelling. Identifying animals is fun, but – as any veteran twitcher will tell you – the next level is understanding behaviour. This is a challenge I'm happy to take up.