Boats are tough. The hull and pontoons are designed to spend their lives in salty environments, and other than harsh discolouration from caked on dust and dirt, Seahorse the boat weathers Cape Town's water shortage really well. Each time we launch, the boat gets a good dousing with buckets of salt water to remove the worst of the dust and sand. The motors are a different story. They do need a fair amount of rinsing and special attention. Without any such attention the biggest risk is corrosion of the aluminum and steel parts.
Engine flushing is often touted as critical, however many boats spend their life moored and never get fresh water flushes. This only happens if they are hauled out for service and repair. The downside to not running the motors is that the salt builds up in the water pump housing and reduces the lifespan of the rubber impeller. What I do is to connect a fresh water supply from a bucket via a short hose to the flush port of the engine. This trickles some water into the pump housing and helps to reduce the salt build up. This helps a little, but the impellers are both replaced every 100 hours when service is due. They are good for several hundred hours if treated better.
We have a dedicated rainwater tank alongside the boat and if there is enough harvested water I run the motors briefly before a launch as a safety precaution. If the tank level is lower than the impeller, I leave a little earlier to run the motors in the sea prior to launch times.
The item that suffers the most is the trailer. There has been no option for hosing down the trailer after use with clean water for well over a year due to water restrictions. It takes over 100 litres to lightly rinse a trailer. This has taken its toll and you can see that despite the galvanising, without a good rinse the salt water gets to work eating everything up. I reckon that within the next six months sections of the trailer will need replacing and the entire trailer will need to be re-galvanised. This is not a cheap exercise. The wheel rims and axle are two years old. Despite galvanising, rust treating and coating the wheel nuts and hubs with Tectyl, they have not been spared the rust.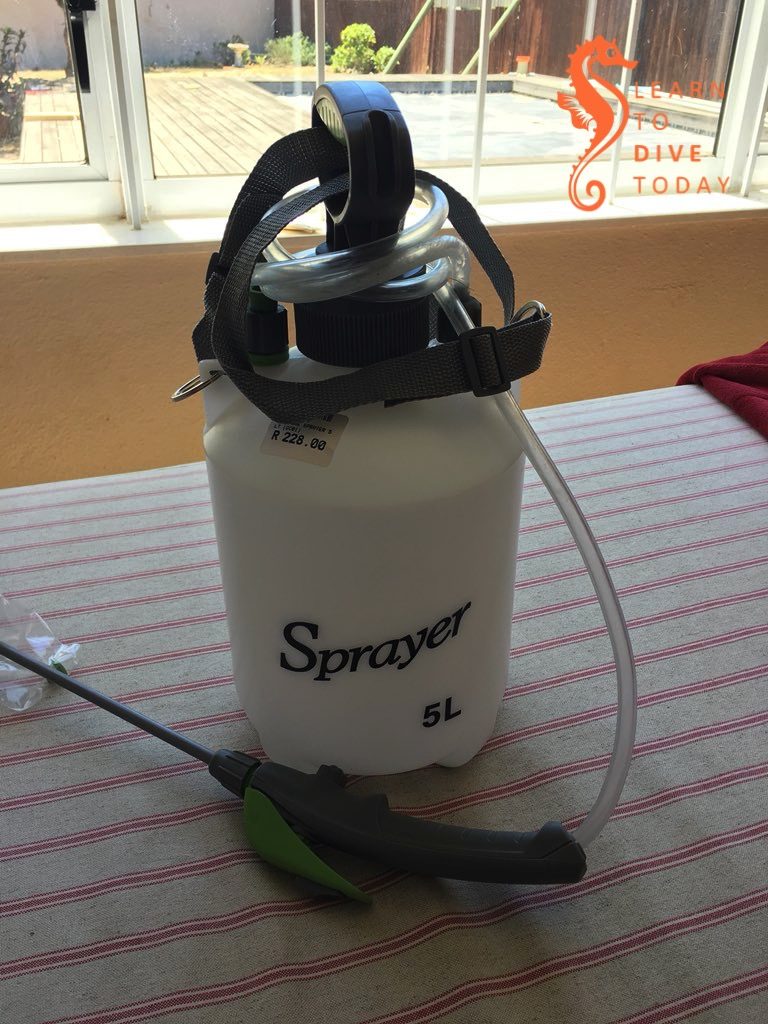 I have been using a high pressure spray bottle, typically used for gardening, to clean the boat and trailer. It uses a fraction of the water that a hosepipe would, and its focused high pressure output cleans well, even if it is far more labour-intensive.
Read my prior post about caring for dive gear during a drought, here.