The Soul of an Octopus: A Surprising Exploration Into the Wonder of Consciousness – Sy Montgomery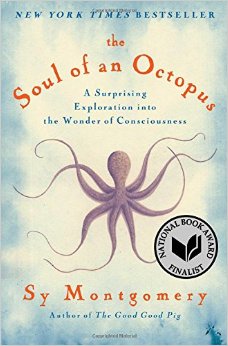 Naturalist and author Sy Montgomery delves deep into the life and times of octopus. The intelligence of these animals is relatively well known, but in The Soul of an Octopus Montgomery chronicles what might be called the "personalities" of several animals that she interacts with at Boston's New England Aquarium, other aquaria, and reefs in the wild. The idea of an animal as apparently simple as an octopus having a personality may seem to be dangerously renegade. But, as we've seen, it may be an idea whose time has come. If you're interested in this, Carl Safina's Beyond Words is a good place to go after this book.
In addition to being a love letter to the octopus she meets, Montgomery's book is a chronicle of the importance of aquariums and the people who work at aquariums: volunteers, in particular. This aspect of the book specially moved me, as I could identify with the ways in which the author and her friends at the aquarium were enriched and changed by their time as volunteers.
The Soul of an Octopus is thus more a speculative meditation and a memoir than a scientific treatise on cephalopods. I loved this book and recommend it to readers whose expectations regarding its content are calibrated appropriately. For a sample of Sy Montgomery's writing about octopus, this article from Orion magazine is excellent. You could also read The Guardian's review.
You can get a copy of the book here (South Africa), here or here.
Just want to look at octopus? You could look at this one pretending to be a piece of kelp, this tiny baby one, this one in the warm, clear waters of southern Mozambique, and this one at night.