Hi divers
Weekend dive plans
Sunday: Boat dives from Simon's Town at 9.00 am and 11.30 am (maximum depth 18 metres)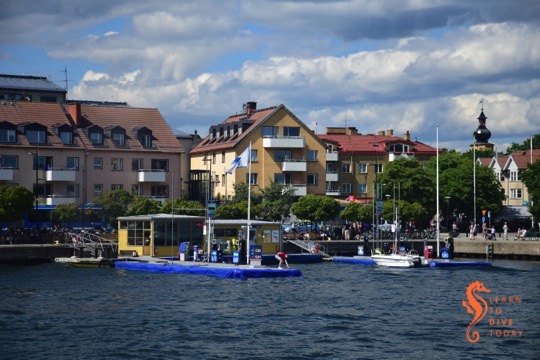 We are back from a vacation and the one thing, of many, that stood out as something that we could really use in False Bay, was a filling station. Not one for cars – we have those – but a real marine filling station that boats can approach from the water. The one in the picture is on the island of Vaxholm in the Stockholm archipelago.
Word is that the visibility is in False Bay has been decent. Not much wind or swell are in the forecast for Sunday so that's the day we plan to dive.
Both dives (at 9.00 am and 11.30 am) will be to a maximum depth of 18 metres and most likely around Roman Rock, as I have students to qualify. Let me know if you want to join us.
regards
Tony Lindeque
076 817 1099
www.learntodivetoday.co.za
www.learntodivetoday.co.za/blog/
Diving is addictive!