Hi divers
Weekend dive plans
Boat dives on Saturday or Sunday, swell permitting
The weekend outlook is not that easy to call. A 4 metre, long period swell is due tomorrow. How much of it arrives and precisely when is difficult to say, as the forecasts on the more frequently used weather sites are quite different.
Hout Bay was surprisingly flat today when I went to take a look (the boat had its annual SAMSA survey today) and False Bay had far more swell than expected. For both days this weekend the wind is favourable, so it all really hangs on the swell.
I would like to launch either Saturday or Sunday but will make that decision midday tomorrow. If you'd like the option of diving, reply to this mail, sms or Whatsapp me.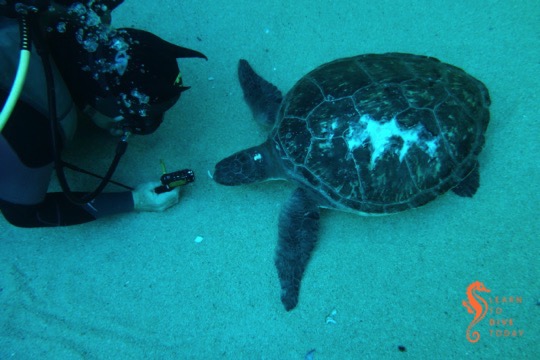 Last weekend we dived in the I&J Ocean Exhibit at the Two Oceans Aquarium. It's an experience that comes highly recommended. The picture above is of Sandy, a rescued green turtle whose shell was badly damaged by a boat propellor, looking at her reflection in my camera lens.
regards
Tony Lindeque
076 817 1099
www.learntodivetoday.co.za
www.learntodivetoday.co.za/blog/
Diving is addictive!
To subscribe to receive this newsletter by email, use the form on this page!