Hi divers
Weekend dive plans
Saturday & Sunday: Boat or shore dives on both days
We spent Saturday morning shadowing a swimmer doing the Freedom Swim from Robben Island to Big Bay… Around 7 kilometres in 14 degree water that at times looked like brown onion soup filled with jellyfish. The swimmers are a brave and dedicated bunch and I admire them. Our swimmer did the crossing in just over two hours, but some of the swimsuit folks spent 5 hours in the water, bravely swimming into a humping current.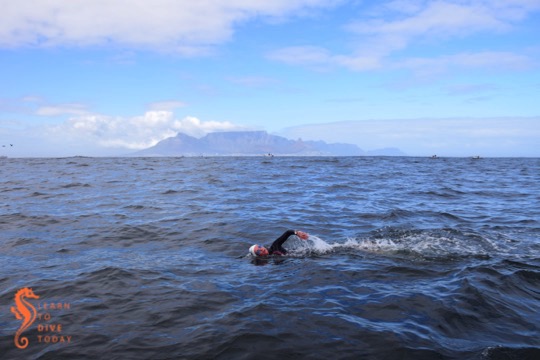 Dive conditions
The forecast looks like a piece of cake for the weekend… Light winds, not much swell and warm sunny skies. False Bay, however, looks a little off, colour-wise, and there are large colour fronts scattered across much of the bay. There is no certainty on where they will go with the light winds over the next couple of days so it is going to be a matter of making the "call to action" early each morning.
I have both shore dive and boat dive students ready to go, so will do either shore or boat based on what it looks like when we wake up, early, on both Saturday and Sunday.
Text, Whatsapp, email or carrier pigeon you desires for the weekend and I will add you to the early morning wake up call list…
Photo exhibition
If ever you had the urge to show a friend the beauty of the underwater world that you enjoy, now is your chance. Haul them off to the Two Oceans Aquarium and show them some of the stunning creatures captured on camera at a wide range of dive sites scattered along Cape Town's shores. The photo exhibition runs for two months and is included in your entry fee to the aquarium. Read more about it here.
regards
Tony Lindeque
076 817 1099
www.learntodivetoday.co.za
www.learntodivetoday.co.za/blog/
Diving is addictive!
To subscribe to receive this newsletter by email, use the form on this page!