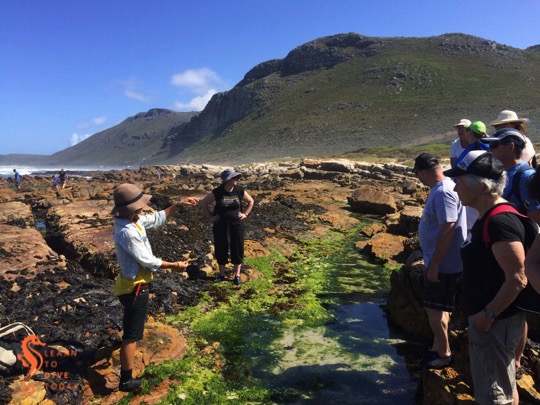 A chance conversation with a friend who also volunteers at the Two Oceans Aquarium led to me enrolling in a coastal foraging course with Roushanna and Gael Gray from Good Hope Gardens, the nursery between Scarborough and Cape Point. Their coastal foraging courses are run during the summer months (I went in December), on dates close to spring tide, so that the maximum possible area of shoreline is available to forage on. The course takes the form of a rock pool expedition on Scarborough beach, followed by lunch – prepared by the participants – at Gael's beach cottage.
As I get older I am finding it increasingly difficult to suppress a wildly eccentric streak that frequently finds me – consciously or unconsciously – making small preparations for some kind of apocalypse (zombie or otherwise). This might be related to living on the South African roller coaster for too long, but whatever the origin of this latent anxiety, it has served to make our home life more sustainable and – little bit by little bit – more independent of the electricity grid, the municipal water system, and grocery stores. The idea of coastal foraging dovetails nicely with my desire to learn how to live a little bit more off the land than off the shelves at Woolworths!
It is important to respect some simple rules to ensure that your foraging is sustainable, safe, kind to the environment, and legal. Each of us had purchased a mollusk permit allowing us to harvest mussels, obtainable from the post office (available for R94 using the same form as the scuba diving in marine protected areas permit), and these were inspected by fisheries officials quite early on in our forage. You don't need a permit to harvest seaweed (however if you wanted to do it on an industrial scale you might need to go through official channels).
There are three types of mussels found on South Africa shores: the ribbed mussel and black mussel are indigenous, and the Mediterranean mussel is introduced. Unfortunately Mediterranean mussels out-compete the indigenous varieties, and we only saw one or two black mussels while we were out. The mussels we harvested were the Mediterranean variety, distinguishable from black mussels by the thick, flat edge to their shells. Black mussels have pointy edges all around their shells, making them more streamlined.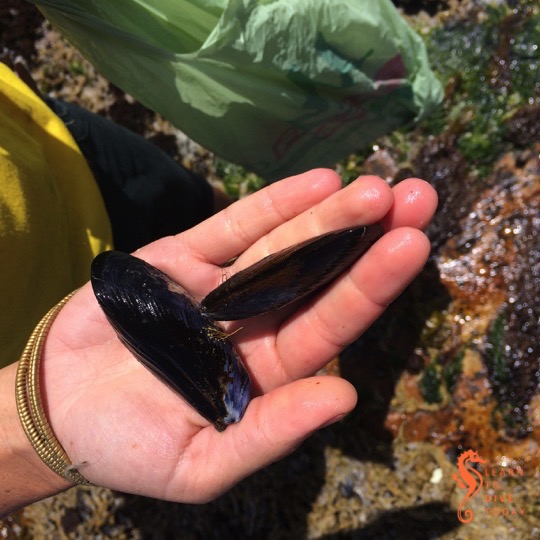 There is only one type of seaweed growing along our coast that is harmful to eat (acid weed – Desmarestia firma, which has sulphuric acid in its fronds). This brown algae species does not grow on the rocky shore but only further out in the surf zone. This gives rise to the simple rule of only harvesting seaweed that is growing on the rocks, and never collecting seaweed that is floating free.
When harvesting seaweed, we used a pair of scissors to avoid pulling the entire plant off the rocks, and cut no more than a third of the leaves. Seaweed is full of vitamins and minerals, particularly iodine and potassium. It isn't something you'd make a whole meal of, but it is a healthful addition to many dishes and – once you know how to prepare it – tastes pretty good!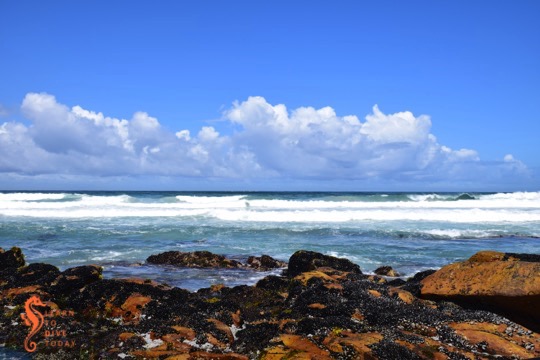 You can read more about the Good Hope Gardens coastal foraging experience here and here. Watch this space for more about what we prepared with our seaweed spoils…