Saved by the Sea: A Love Story with Fish – David Helvarg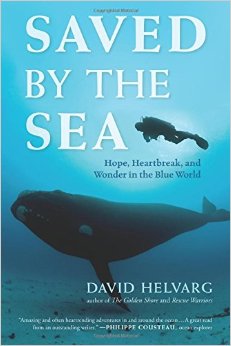 I think this book belongs to the same broad genre – one for which I have a lot of time – as Tim Ecott's Neutral Buoyancy. If I had to describe the authors of this genre, I would call them "thinking scuba divers" (as opposed to the unthinking kind). David Helvarg is a former war journalist turned environmental activist. In this beautiful, heart-wrenching book he chronicles his own life as it has touched upon the world's oceans.
Helvarg is founder of the Blue Frontier Campaign, and, as he explains in this book, he encourages and facilitates environmental activism. Helvarg's idea of activism does not seem to be topless protests about vague global issues, but rather entails groups of concerned citizens becoming involved in intensely local issues: a Seaweed Rebellion. The feeling of helplessness and doom which sometimes threatens to overwhelm those with a concern for the ocean's future can be fruitfully channeled into unglamorous but entirely useful small acts of advocacy and change. The kind of activism that Helvarg encourages in Saved by the Sea comprises small, cumulative actions, like writing letters to government representatives on subjects that concern you; participating in coastal clean ups; getting involved in citizen science projects in your area. He lists fifty ways to save the ocean (and has written a book on that subject) – print them out and do your bit. The key is to do something, where you can (and that is usually right on your doorstep).
I would recommend the book purely for the activist spirit that Helvarg espouses (he explains why he formed Blue Frontier in the prior link), but in addition to this his book is wonderfully written and affirming of the variety and beauty of the ocean. He describes scuba dives in some of the world's most pristine areas, surfing trips in South America, travels to the Antarctic. Interwoven with these encounters with the natural world is Helvarg's own life, and love, story. He does not shy away from difficult feelings and experiences. This is an autobiography, and one you'll be richer for having read.
You can get a copy of the book here (South Africans), here or here.