Pirate Hunters – Robert Kurson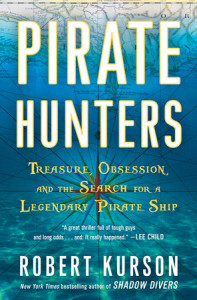 For the days that I spent listening to the Pirate Hunters audiobook on the way to and from work (I have a long commute), I was transported from wintry Cape Town to a sandy bay in the Dominican Republic, to the Archive of the Indies in Seville, Spain, and to the deck of a pirate ship in the seventeenth century.
Friends John Chatterton and John Mattera undertake an obsessive quest to locate a vessel that belonged to the legendary pirate Joseph Bannister. There are accounts of the battle that claimed his ship, but not enough evidence to   The life of a treasure hunter may appear romantic from the outside, but in reality it is expensive, monotonous, and frustrating – punctuated with moments of delirious elation. (Treasure – The Search for Atocha also gives an excellent perspective on this irony.)
Robert Kurson is the author of Shadow Divers (gripping), which also features veteran wreck diver John Chatterton as he embarks on a dangerous quest to identify a sunken submarine in the North Atlantic. Unlike Shadow Divers, diving is not as much of the focus in Pirate Hunters. The diving that does take place is in shallow, light-filled tropical water and entails minimal risk to the participants. In both books, however, there is an intense focus on the historical research that is required to positively identify a shipwreck. In Pirate Hunters, Kurson does an excellent job of taking us inside the mind of the pirate Bannister, and it is through a thorough understanding of his motives and character that Chatterton and Mattera make their biggest breakthrough.
Check out the New York Times review of the book, which does highlight some of its shortcomings relative to Shadow Divers. If you're pirate obsessed or a maritime history buff, however, you'll enjoy Pirate Hunters regardless.
You can pick up a copy of the book here, if you're in South Africa, otherwise here or here.