There are a lot of reefs around Ponta do Ouro and Ponta Malongane, and it was great to dive two new ones (Checkers and Steve's Ledge) on our visit there in June-July. I did this dive with Christo and Laurine. Esther and Tony were feeling a bit under the weather with mild colds, so they sat out the first dive of the day on the Thursday of our trip. Checkers is a short boat ride from the launch site at Ponta.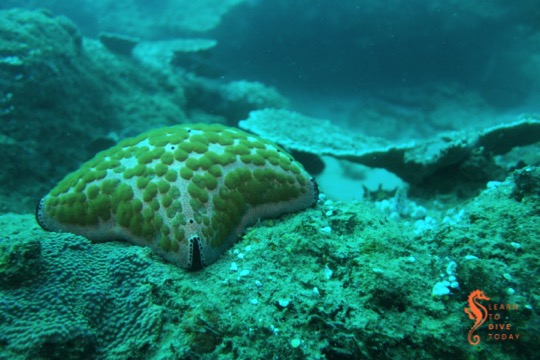 The first thing I noticed at Checkers was the abundance of plate coral, which is beautiful but requires divers' buoyancy to be impeccable to avoid crunching it. (It is surprisingly strong, though – on two separate Sodwana trips, owing to poor buoyancy control and body awareness, I have witnessed divers reclining on huge plate corals like overdressed burlesque dancers in giant martini glasses, and the plate corals survived without breaking. The divers almost didn't, though! Grr!) There are plate (or table) corals of all sizes, some of them growing across gaps in the reef. This provides excellent habitat for marine life.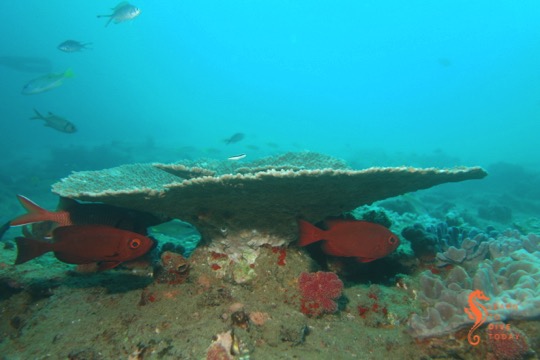 The reef has more interesting topography than a place like Doodles, even though it is relatively close to Doodles with no other reef in between. It slopes quite dramatically in some places. Christo suggested swimming back and forth across it in both directions so as to be able to have maximum opportunity to see into all the crevices and under the overhangs. The reef is relatively small and round rather than long, meaning that it's probably not ideal to dive in a strong current, because doubling back will be tricky.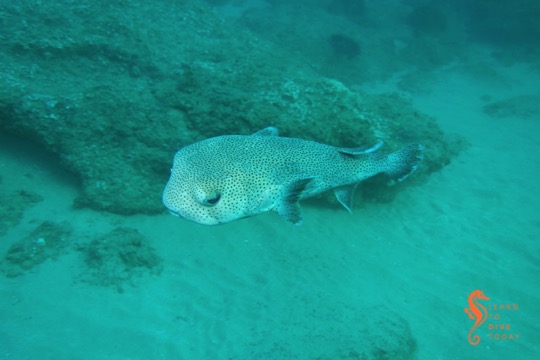 There are sand channels running through the reef in places, and as we swam over one of these we were passed by a beautiful porcupinefish with sad eyes, making his way somewhere. He swam right between us without batting an eyelid. I spent quite a lot of time trying to photograph this juvenile batfish, but he was far too busy demarcating his personal space among clouds of other fish under an overhang to turn sideways to the camera.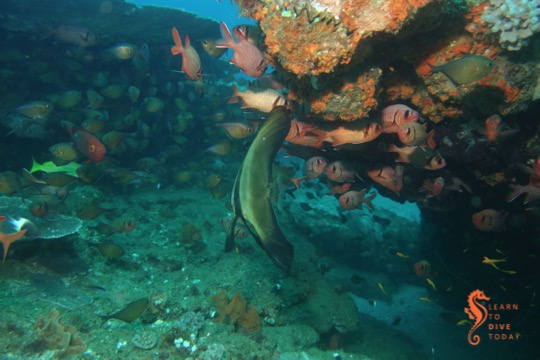 This is a great dive site for spotting hidden, interesting animals. There is enough life in the form of schooling fish over the reef to keep divers who don't like sticking their heads under overhangs busy too! Photographic opportunities abound (despite the evidence I have presented here), but it isn't possible to get to everything in an ethical manner (i.e. without lying on the reef like a plonker) because of the delicate structure of the coral.
Dive date: 2 July 2015
Air temperature: 21 degrees
Water temperature:  23 degrees
Maximum depth:  16.8 metres
Visibility: 12-15 metres
Dive duration: 57 minutes