Date: 27 October 2014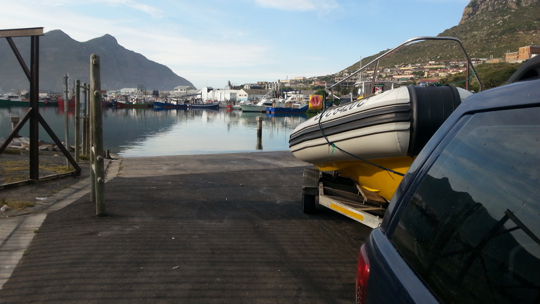 One day in October last year (there are no acceptable excuses for the delay posting this, so we'll just leave it at that), Seahorse and her skipper were chartered by a multi-disciplinary team who are working on a project called Sea-Change. If you've visited the Sea Point promenade recently, you might have seen a beautiful array of mini-billboards featuring photographs of sevengill cowsharks, kelp forests, and other marine life, including recreations of how early humans may have interacted with the marine environment in the Cape.
The Sea-Change team wanted to find a co-operative whale to swim with and film, being in possession of the necessary permits (many pages of paperwork). It was late in the season for whales in False Bay, and we spent a morning looking for them without any luck. Reports of whales on the Atlantic seaboard led us to Hout Bay about a week later.
It was a misty day, and we went as far north as Clifton without seeing any whales. We did see a large sunfish and lots of seabirds (including rows of terns perching on pieces of kelp), and we spent some time at the seal colony at Duiker Island, where the team spent over an hour in the water… without wetsuits! Just as we were about to call it a day we spotted a whale at the entrance to Hout Bay – it may have been there the whole time but the mist was too thick for it to be seen. Unfortunately it didn't want its picture taken, so we had to call off the search for another day.
Check out the Sea-Change website for more information on the project. There's also a just-published feature about the project in Africa Geographic that I highly recommend you check out.