The words "organised crime" don't typically intrude into our privileged Capetonian lives (if you can afford to scuba dive recreationally, you're privileged), but in reality there are networks operating on our doorstep, and many of our activities as scuba divers actually cause us to cross paths with these syndicates. Sometimes it is a very literal crossing of paths, and other times it's simply sharing the same space as individuals who are advancing the interests of a criminal organisation.
Khalil Goga, a researcher who has been focused on organised crime since 2009, published a report on the Western Cape's illegal abalone trade  for the Institute of Security Studies in August 2014. This paper can be seen as a companion to Jonny Steinberg's 2005 ISS report on the illicit abalone trade in South Africa. While Steinberg's paper deals with poaching's socioeconomic and political origins and has a broad geographic focus within South Africa, Goga lays out the structure of poaching operations from harvesting the resource to its arrival in Asia, with special reference to the Hangberg community of Hout Bay.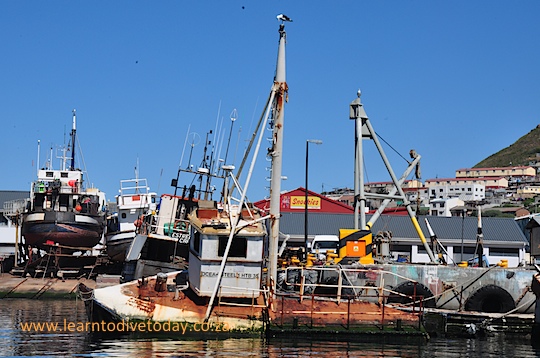 The state of Hout Bay harbour – with corrupt or no access control, no checking of catches by Marine and Coastal Management or monitoring whether vessels are compliant with SAMSA regulations, and sunken ships at their berths – visually demonstrates how easy it is to base a poaching operation out of this location. The individuals who do the hard work of diving, driving, and carrying abalone over the mountain are drawn from the communities surrounding the harbour. Despite the involvement of these impoverished and sidelined communities, however,
The abalone trade has moved from largely being in the hands of a marginalised population to one that is 'dominated by outside opportunists'. It has evolved from an informal activity by fishers into 'a highly organised commercial fishery run by organised criminal syndicates'.
Read the complete ISS report here (PDF). It's clear, easy to understand without glossing over the complexity of the issue, and absolutely fascinating. If you would rather read a shorter article on the abalone trade emanating from Hout Bay, you can try this M&G piece.