The Reef Guide: East & South Coasts of Southern Africa – Dennis King & Valda Fraser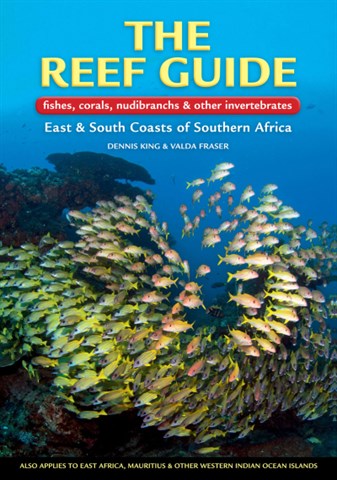 It was with extreme joy that I discovered this book. I brought it home and placed it on the table in front of Tony with an air of insufferable smugness and satisfaction – the same attitude he displays when he's done something cool to the boat or his car. This book is excellent news for warm water divers, even part-time ones like us.
It's a combination of Reef Fishes and Corals by Dennis King, and More Reef Fishes and Nudibranchs, by King and Valda Fraser, as well as a lot of additional material. It covers the south east and north coast of South Africa, so will be indispensible for trips to Sodwana and Durban. It also applies to Mauritius, Reunion, the Seychelles, the Comores and the Maldives. So I'll have it with me for our 2016 Maldives live aboard trip… Diarise!
I've always travelled to Sodwana and Durban with my copies of Reef Fishes and Corals and More Reef Fishes and Nudibranchs, but if I must be honest I find it very hard to navigate the two books. There isn't a clear division of species between them, so there are parrotfish (and wrasses, and rays, and so on) in both books and I'd need to check twice over to try and identify each creature I saw. This got tiring. Plus, the indices have a few incorrect page numbers in them, and if one thing is going to make me want to toss a book across the room, it's a frustrating index. (A poorly drawn up index can render the best cookery book almost unusable, but that's another story.)
The Reef Guide is a triumph. It covers 578 species of marine fish and 228 invertebrate species. Each creature has a beautiful photograph to identify it and brief details of appearance, behaviour and distribution. There is an index of scientific names (which is useful when travelling outside of South Africa, because common names vary widely) and common names as used locally.
There is also a glossary and a further reading section, referring the interested reader to books by local authors like Georgina Jones (A Field Guide to Marine Animals of the Cape Peninsula) and Guido Zsilavecz (Coastal Fishes of the Cape Peninsula and False Bay, Nudibranchs of the Cape Peninsula and False Bay). Some of the species in this book are found in Cape waters, but I wouldn't use it as a primary reference. The further reading list also points to George Branch's The Living Shores of South Africa, the invaluable Two Oceans by Branch and Griffiths, et al, Heemstra's Coastal Fishes of South Africa, and Rudi van der Elst's Guide to the Common Sea Fishes of Southern Africa. We are extremely fortunate to have a veritable library of marine reference books to consult as South African divers.
You can read more about The Reef Guide here.
Grab a copy here, before your next diving holiday. I'm looking forward to using it.