When diving conditions aren't great, but it's nice enough to be on the boat (and occasionally when it's not!), a tour of False Bay is just the ticket. This particular winter's day, bundled up in our warmest clothes, we set off at first light from Simon's Town jetty to get to Seal Island nice and early. We were distracted by the sunrise beauty of Roman Rock lighthouse, and a pod of dolphins on the way out to the island. The dolphins checked us out briefly but didn't want to stick around, so we left them alone.
Once we got to the island we were able to witness a couple of breaches of great white sharks chasing seals, as well as one on the decoy towed by Stef of Shark Explorers. He promised us a breach, and delivered! Witnessing these events is so much a matter of luck – you have to be looking in the right direction at the right time, because the sharks don't give any visible warning of where they're going to strike. Keeping an eye on small groups of seals returning to the island is the best way to improve your chances of seeing a jumping shark.
After a while at the island we headed north towards Macassar and Muizenberg. There is a huge, shallow plateau here that stretches far out from shore at a fairly constant depth of 5-7 metres. It was here that we saw quite a bit of whale action on last year's whale watching trip with Simon's Town Boat Company. Following the coastline from Muizenberg we admired the quaint old buildings of St James and the colourful beach huts there, and then popped into Kalk Bay harbour to see the fishing boats.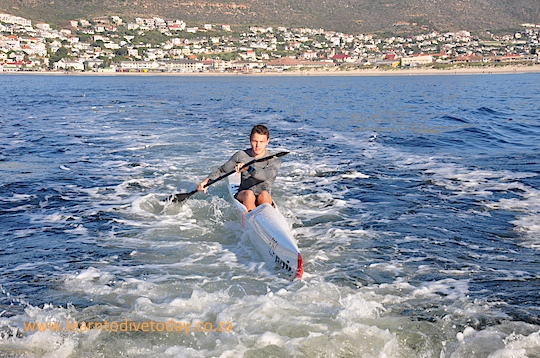 After leaving Kalk Bay we headed towards Fish Hoek, where we encountered our next door neighbour Ashley, out on his paddle ski. He wanted to catch up with his buddies, so we motored slowly out of the bay with him riding in our wake until the gap was closed. We meandered back past Glencairn, the quarry, and the Clan Stuart, finishing up back at Simon's Town jetty.
These trips are ideal for photographers (or adventurers) who want to see the beautiful coastline of False Bay from a different angle. There is also the opportunity to see some of the marine wildlife that inhabits our bay between the mountains – birds, whales (when in season, and from a distance), dolphins, sharks (if lucky), sunfish (if lucky!), seals, and penguins. If you'd like to be informed about future False Bay photo cruises, get in touch or subscribe to our newsletter for advance notice.