On our way back from Big Bay, we took a slightly roundabout route to OPBC, passing some of the ships that were anchored offshore in Table Bay. Ships anchor here when they are waiting to enter the harbour, but some also stay for longer periods of time, in order to effect repairs, or because they cannot continue further. E-Whale, a bulk carrier about which you will hear a bit more next week, has been here for over two years.
E-Whale has a bulbous bow that looks as though it's been in a bit of a scratching fight! She is a very impressive ship from close up, even though by bulk carrier standards she is only middle-sized.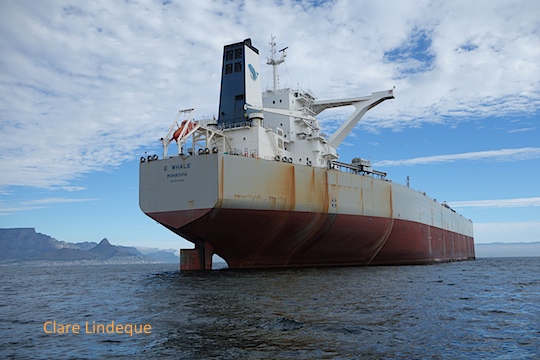 On the way back into OPBC I marvelled at the piles of dolosse that protect the slipway and jetties there by dissipating wave energy. These are a South African invention that were inspired by the children's game of jacks, and are used in harbours around the world. The ones in the picture below aren't the typical shape, but triangular.
Because our swimmers had arrived last, and we took a scenic route back to Granger Bay, we had lots of space to take the boat out of the water when we arrived. The slipway was far more congenial and orderly than we're used to experiencing – wonder why?