Hi divers
Weekend launches
Saturday: 9.00 and 11.30 to Atlantis and the Ark Rock wrecks, launching from FBYC
Sunday: 9.00 and 11.30 to Photographer's Reef and Shark Alley, launching from FBYC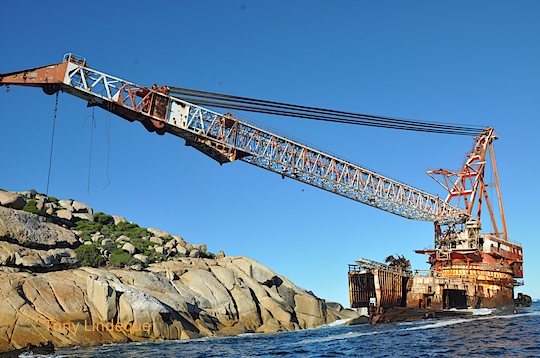 Dive report
We had pretty good conditions  last weekend out of Hout Bay, where we launched on Sunday for a double tank dive for an Aquaventures IDC. On the BOS 400 the visibility was only about 6 metres, and about 8 metres at Duiker Island. There were reports of even better conditions inside Hout Bay.
After the divers left Clare and I took the boat down to the Slangkop lighthouse in Kommetjie for a picnic (on the water). The winds were light, with lots of sun and a gentle swell, and we spent some time putting running in hours on the boat.
The condition have been really good all week, and apart from a fog bank that hung around on Tuesday and Wednesday, the diving has been good. We dived Partridge Point and cowsharks on Tuesday to complete Open Water and Divemaster courses, and then spent some time just off Millers Point watching three huge short tail stingrays in the shallows. We were also fortunate to see humpback whales on the way back to Simon's Town. (Yes, I did take a picture and yes they were humpbacks despite this not being the time of year for them!)
Dive conditions forecast
The forecast for the weekend is for very little swell, very little wind and lots of sunshine (29-30 degrees on both days). My kind of weather! The water temperature in False Bay is also pleasant and is between 16-20 degrees depending on how deep you go.
It is a good time to go diving. We will launch from Simon's Town jetty as usual and the plan is to dive Atlantis and the Ark Rock wrecks on Saturday, and on Sunday Photographer's Reef and Shark Alley. If you have a burning desire to go somewhere else, let me know and I'll see what we can do! As usual, text or email me if you want to get on the boat.
Remember
Please remember to have your MPA permits up to date (this applies if you're coming to Sodwana, too – they will be checked). Also remember that if you book a dive and can't make it for whatever reason, you need to let me know the evening before otherwise I will have to charge you for the spot on the boat.
regards
Tony Lindeque
076 817 1099
www.learntodivetoday.co.za
www.learntodivetoday.co.za/blog/
Diving is addictive!
To subscribe to receive this newsletter by email, use the form on this page!