The wreck of the Russian-built minesweeper El Miniya is only a few minutes from the entrance to the harbour at Hurghada, and we dived her on our very last day on the liveaboard. The minesweeper was delivered to the Egyptians in 1956, and she was sunk during the Six Day War in February 1970. There are some detailed technical specification of the vessel here. She was struck on her side by Israeli aircraft fire, turned turtle, and was hit on her underside as well before sinking.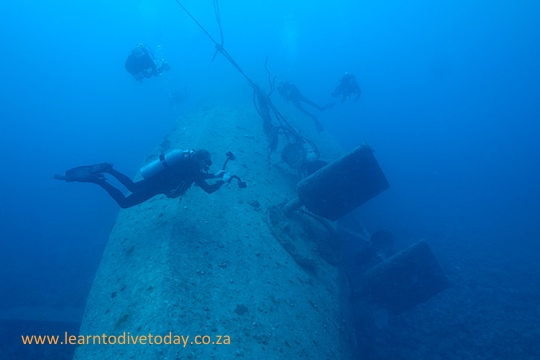 Because of her proximity to civilisation (and a refuelling depot) and the absence of a nearby reef, the wreck isn't particularly rich in marine life. The visibility is also less than it is elsewhere in the Red Sea (in Ras Mohammed, for example) but I found it quite adequate by Cape Town standards! She reminded me of the MV Katsu Maru in Hout Bay, Cape Town, because of the way she's lying, resting on her port side.
SS Thistlegorm's sinking was also an act of war, but it took place in 1941. It was interesting to dive a far more recent wreck, and one that is less exposed to swell and current than is the Thistlegorm. The starboard anchor is in place on the outside of the hull. The port anchor was deployed at the time of her sinking. You can also see what I think is a sonar device embedded in the hull of the vessel.
There are also torpedo-like objects visible where the superstructure lies on the seabed. These were towed behind the minesweeper to look for mines. You can see one in the image below, and a large winch which would have been used to manage the cable.
This is a deep wreck – I didn't go down to the sand, but you can get at least 30 metres' depth if you want it. This was the deepest dive I did on our Red Sea trip, and a nice way to round things off. Ascending and getting out of the water turned out to be quite adventurous…
Dive date: 24 October 2013
Air temperature: 27 degrees
Water temperature:  27 degrees
Maximum depth: 25.9 metres
Visibility: 25 metres
Dive duration:  35 minutes