The Chrisoula K was a German-built vessel that was wrecked at Sha'ab Abu Nuhas in 1981 while under Greek ownership. She had a cargo of Italian floor tiles on board. (We are sure that if we combined the cargoes of the Jolanda and the Chrisoula K we could do a complete bathroom makeover.) There is some controversy about whether the wreck we dived is actually the Chrisoula K (some contend that it is another tile-carrying vessel called the Markos – which Ned Middleton contends is actually the nearby Giannis D – or even that it is actually the Kimon M, while the real Chrisoula K is in very deep water), but our dive guides brushed this off as a storm in a teacup, and seemed pretty certain that the wreck we dived, which lies in about 25 metres of water, is the Chrisoula K.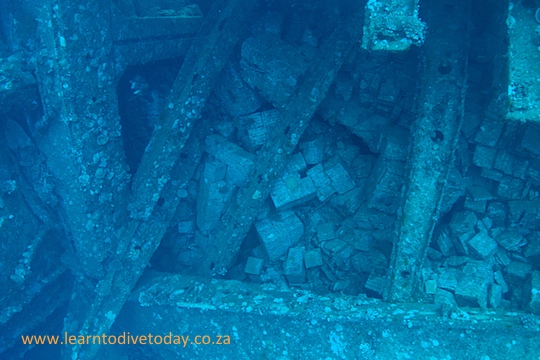 We dropped in on the starboard side of the wreck, which is mostly standing upright on the sand with her bow embedded in the reef slope. There are booms and masts sticking out over the side of the wreck, and just underneath one of them we found a small school of longfin batfish, who eyed us balefully as we swam by but made little effort to avoid us. On the sand beneath were the traces of a large number of garden eels, whose presence was evidenced by the small sand piles they left as they vanished with the approach of the first group of divers from our boat.
The stern of the wreck is twisted ninety degrees from the horizontal, which looks confusing. Apparently it started leaning to starboard, and has gradually completed a full twist. The propellor is intact and present. The port side of the ship lies quite close to the reef, and one can swim down the passage between it and the reef, or explore the top of the wreck. Some of the cargo of tiles is visible in a hold, and we found a lovely porcupinefish hiding near some tiles, too.
It is possible to penetrate the wreck, apparently, but I'm not into that stuff so I gave it a skip. We finished off the dive with a safety stop and then ascended to where our Zodiac was moored on top of the superstructure. When there were enough divers to fill the boat, and then a few more, we set off back to our liveaboard.
There's some nice detail about the wreck from Red Sea wreck diving expert Ned Middleton, here.
Dive date: 23 October 2013
Air temperature: 25 degrees
Water temperature:  27 degrees
Maximum depth: 20.2 metres
Visibility: 30 metres
Dive duration:  43 minutes