Date: 18 September 2013
Yesterday I described the spectacle of Dungeons, a truly enormous wave that breaks just outside Hout Bay when conditions are right. We had one such day in mid September, and the boat was chartered to take a boat load of photographers out to see the surfers in action. The swell was due to peak at 5.30pm, which is around when it was starting to get dark at that time of year. However in the two or three hours preceding sunset it was still amazing to watch.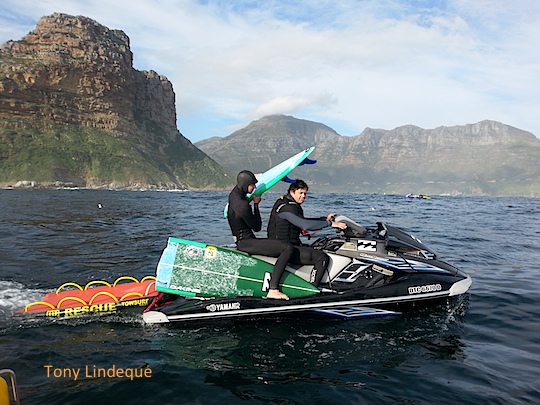 Some surfers came out on jet skis, towing boards behind them. When it was time to go back to the slipway, we were confronted by a small group of surfers whose jet ski drivers had simply left them out at sea! I couldn't believe it. The surfers didn't seem too worried though! We loaded them and their boards onto Seahorse, but it was a tight squeeze. The boat was very full.
I had my hands full keeping everyone safe while we were out there, so not much photography was done by me. You really have to be on your toes as a skipper when so much water is moving around. However, here is a small gallery of some of the shots I took. If you'd like to join us next time Dungeons delivers, get in touch!