Date: 8 August 2013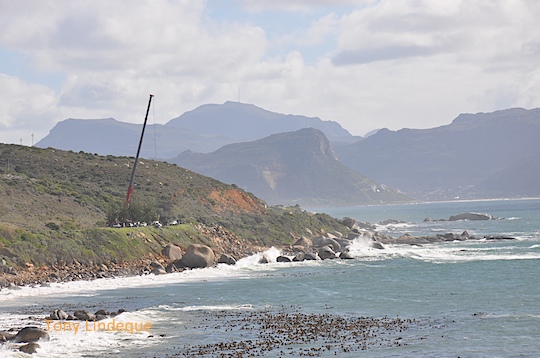 Technically a day by the bay, I took these photos on a drive down the western edge of False Bay to check out conditions for weekend launches. Just before Miller's Point there was a huge crane manoeuvring cars onto and up from the rocks at the side of the road.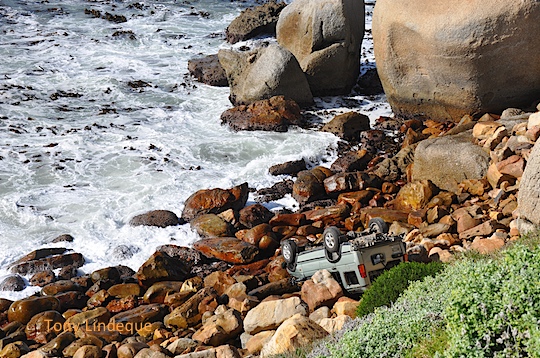 I approached cautiously, and watched the activity from inside the divemobile for a while. I couldn't see any police cars (so it wasn't an actual accident), or cameras (indicating that they were filming at that moment), so I hopped out of the car to investigate.
It was a film shoot for an American television program promoting the US Coast Guard. No one had arrived yet apart from the safety crew, who were manoeuvring the various vehicles into place. They had to adjust their position a few times because large swells threatened to wash the cars off the rocks. I asked one of them why they were doing this filming in South Africa rather than the United States, and his answer suggested that it was much easier to get a permit for what they wanted to do – potentially drop cars into the sea – here than it would be in the US.
I'm not sure if that's a good reputation for South Africa to have!
Once I'd finished watching the activity with the crane, I got back to my original mission: making a call as to whether I was going to take the boat out or not. Conclusion: not. The sea was patchy in colour and choppy in the wind with quite a big swell – not great for diving.