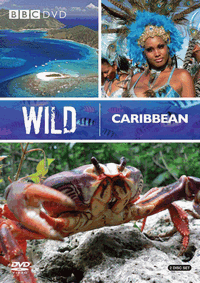 In the tradition of the BBC's Great Barrier Reef and South Pacific documentaries we watched last year and earlier this year, Wild Caribbean transports one to a series of exotic destinations and – with the outstanding production values one expects from the BBC – introduces their micro- and macro- flora and fauna, as well as the physical characteristics of the location.
Narrated in mellifluous tones by Steve Toussaint, with a wonderful musical score, Wild Caribbean transported us out of rainy Cape Town to the warm, shallow (and very deep) seas of the Caribbean, the thousands of perfect palm tree covered islands, the mangrove forests, and the magnificent coral reefs. There are four episodes, and we enjoyed the middle two – Wrecks and Reefs and Hurricane Hell – the most. In the episode about the abundant shipwrecks and reefs in this part of the ocean, we saw footage of the Kirk Pride, lying in nearly 300 metres of water on the Cayman wall.
The area is prone to hurricanes, and these events will only increase in severity and frequency as the planet warms up. The episode devoted to hurricanes is both terrifying (with some amazing footage of storm surges) and comforting – in most cases, the coral reefs, forests and animals are able to recover and thrive after these severe storms have passed.
I was also thrilled to get a glimpse, in the fourth and final episode, of the cenotes of the Yucatan peninsula in Mexico, haunt of cave divers and redolent with history and spiritual significance to the people who lived there. Aerial footage (which is used extensively) of the Great Blue Hole of Belize was also alluring.
Chance of being murdered aside, the Lesser Antilles islands of Aruba, Bonaire and Curacao struck me as very promising diving destinations – particularly Bonaire. It is an extremely arid place with very little runoff due to erosion and rainfall, so the coral reefs surrounding it and Curacao are washed by crystal clear water and bathed in abundant sunlight. For divers, there is also magnificent footage of whale shark aggregations off the island of Utila, and of massing stingrays at "stingray city" at Grand Cayman, where one can stand in waist deep water and feed stingrays by hand. Humpback whales, orca and turtles also pass through these waters, which boast an almost dizzying array of macrofauna in addition to the coral reefs and tropical fish.
This is a wonderful production and we enjoyed it immensely. There is a companion book that looks beautiful, too.