The Fontao is an old Mozambican prawn trawler, scuttled off Umhlanga in Durban by the Oceanographic Research Institute in 1991. The intention was to study the rate at which wrecks and artificial reefs are colonised by marine organisms. The wreck is small: just under 35 metres long, with a beam of 8 metres. She lies upright on the sand at about 27 metres' depth, and is largely intact. Tony did an eventful wreck penetration dive here during some of his training at Calypso… Ask him about it!
While waiting for the skipper and Divemaster to hook the anchor to the wreck (common practice in Durban), we were able to socialise with a couple of Indian yellow nosed albatross. These rare birds have incredibly impressive wingspans, and also came to visit us on several subsequent dives hoping we'd brought snacks.
Descending onto the wreck we were greeted with dense clouds of piggies, silvery baitfish that hang around above the wreck and parted gently to allow us to swim through. The wreck is covered with lead sinkers and fishing line, and is a popular fishing destination. Just inside part of the superstructure is a memorial plaque dedicated to a diver (now deceased) who specially enjoyed this dive site.
There is a mosaic floor – apparently prawn trawlers were festive places – and the bow is very beautiful, but because of all the fish it was hard to get a good look at the wreck as a whole (not complaining)! When we dived the Fontao there was a strong current across the wreck, which made me reluctant to stray too far from it lest I got swept off onto the sand.
We dived on air and had a decent-length dive because we spent most of our time on the top of the wreck, which is at about 18 metres. For exploring the bottom and sides of the hull further, Nitrox/enriched air would be a help.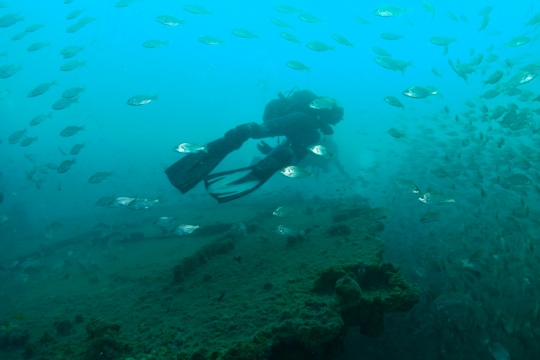 Dive date: 18 June 2013
Air temperature: 23 degrees
Water temperature:  22 degrees
Maximum depth:  27.2 metres
Visibility: 15 metres
Dive duration: 40 minutes