Date: 11 May 2013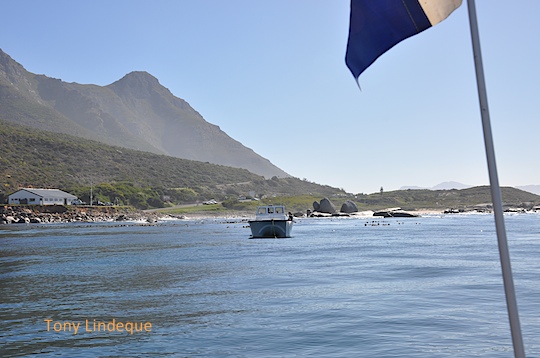 We enjoyed beautiful, calm surface conditions one sunny day in May when I took some local and visiting divers down to Shark Alley to visit the broadnose sevengill cowsharks. The guys from Shark Explorers were also in the water, using their hard boat, and in the distance we could clearly see the Cape Boat and Ski Boat Club at the southern slipway at Miller's Point, where the first Cape Town Dive Festival was held last year.
On our way back from the dive site we came across hundreds of cormorants sitting on the surface of the sea in a great flock. We couldn't see any obvious fish that they could have been gathering to eat – they were just chilling there for the moment. The sight of so many birds moving together is quite amazing.
When we returned to the slipway at False Bay Yacht Club, there was an extremely curious and cheeky seal who swam by the boat and showed off for us. When I told him that, with his whiskers, he looked a lot like our cat Fudge, he seemed to take offence and tried to jump onto the boat!