Date: 15 April 2013
You see something new on the ocean every day. This handsome grey heron was standing around on the floating barrier in the Simon's Town yacht basin when we left from FBYC to head out for a day of diving. We see herons quite often actually (there's one that likes to hang out at A Frame, for example), but it's not every day that you see a dive site marked with an inflated BCD instead of a nice big orange buoy. This photo was taken while some divers were down on the wreck of the SAS Pietermaritzburg.
We motored on past this peculiar (and slightly unsafe – a fast moving boat wouldn't easily spot this marker on the surface) arrangement to Shark Alley, where we planned to spend some time with the broadnose sevengill cowsharks. Once there, the divers got themselves ready…
… and executed a perfectly synchronised backward roll into the water! The surface conditions were beautiful and the boat hardly drifted for the duration of the dive. We did a double tank dive (you can just see the spare cylinders on the tank rack in the picture below), and went straight on to Photographer's Reef afterwards for a second dive.
On our way back we passed by the experimental octopus fishing gear, comprising hundreds of traps strung on long (one kilometre) lines between Simon's Town and Fish Hoek. This is an intitiative by the Department of Agriculture, Forestry and Fisheries, and is a cause of great concern to me (not least because DAFF is rife with ignorance, corruption and mismanagement). The risk of entanglement to marine creatures is, I think, significant. It is also not clear whether  an impact study has been done regarding the effects of removing hundreds of octopus from the bay every few months.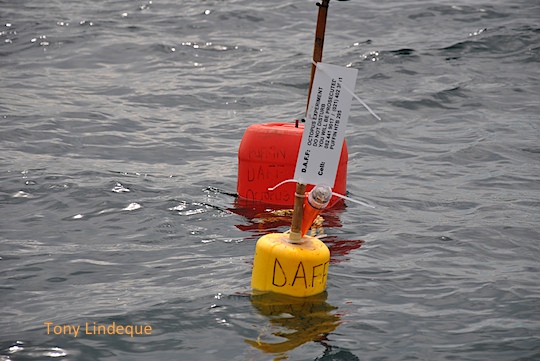 You can see that the fishing gear is marked with a small flashing strobe that is visible in the evenings from the Whale Lookout in Glencairn. It is also inscribed with various threats against anyone who disturbs it.
When we returned to the yacht club, there was a heron waiting at the bottom of the slipway in the shallow water. We gave him time to get out of the way!