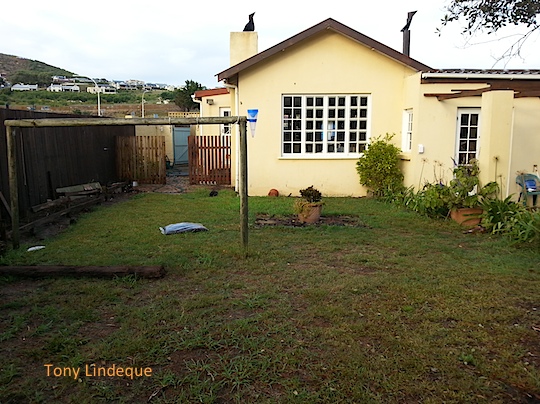 At the end of September 2012 Clare and I moved from the duplex in Kenilworth, where she was living when I moved to Cape Town, to a more spacious home on the edge of Sun Valley close to Fish Hoek. We love living in the South Peninsula, close to the sea and mountains. We have a large garden populated by Western leopard toads, frogs of all kinds, mole snakes, field mice, and actual moles of various sizes. Guinea fowl, hadedas, white eyes, grey herons, jackal buzzards, owls, sunbirds and a host of other feathered creatures pass through on a regular basis.
Starting in late April we installed a 5 x 3 metre swimming pool in the back garden, with the intention of using it for dive skills training as well as for our own leisure purposes. It is salt chlorinated and will eventually be surrounded by a wooden deck and equipped with some solar heating equipment to warm the water using the sun's rays. In the mean time, an energy saving pool cover keeps it clean and warms the water by up to four degrees.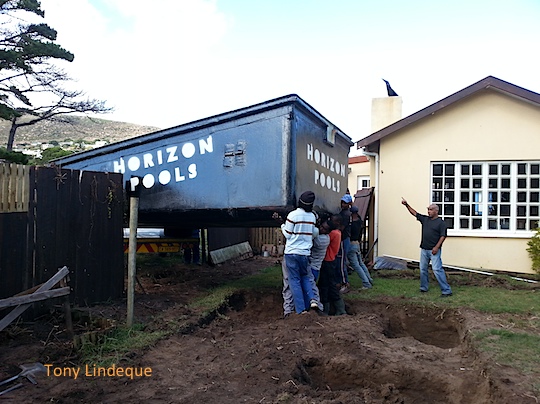 The process of installing the pool was actually very quick, and I enjoyed watching the hole being dug, the shell arriving and being positioned, and the sand being filled in around the fibreglass shell. We used all the sand dug out of the hole to level the garden, which is now looking (and feeling) much larger and less likely to cause a twisted ankle on one of the sloping areas. Here are some photos I took while the pool was being installed.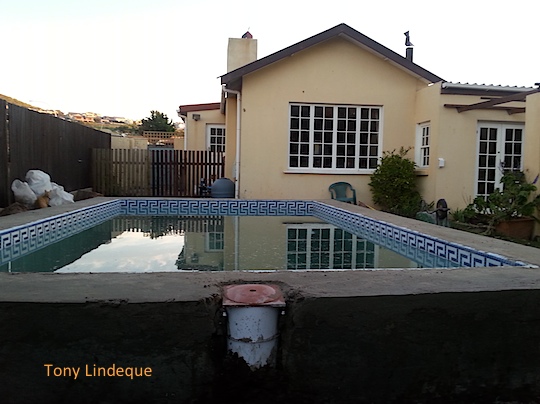 A week or so after installation I took my first group of students in the pool – two Open Water students and a Discover Scuba Diving candidate. It's great not to have to drive to Wynberg to use the pool there any more! I'm happy to report that this particular independent instructor (and SDI Resort Dive Centre) is more independent than ever.
We wouldn't recommend the particular company that put in our pool if you're considering having one done yourself, but with a bit of work from me the finished product is great.