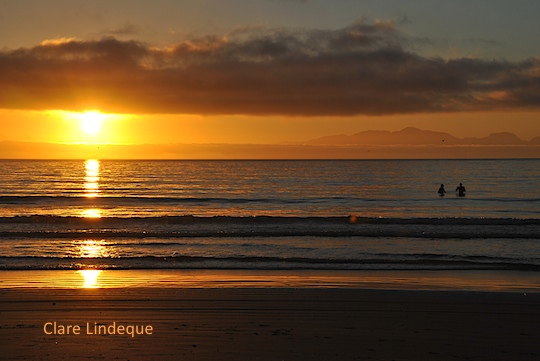 A shark exclusion net has for some time been planned for Fish Hoek beach. The net will not kill sharks and other marine creatures like the ones in KwaZulu Natal do, but rather forms a close-meshed barrier that aims to keep sharks out, swimmers in, and everyone alive. For reasons outlined here, the process of designing and building the net has been a fairly lengthy one, and something that neither the City of Cape Town nor the Shark Spotters wanted to be hasty about.
It was therefore a happy day last Friday (22 March) when the first trial deployment of the net was conducted at Fish Hoek beach. The net is a world first, and it will take a couple of practice attempts by the parties involved (the City, the trek net fishermen who will do much of the work to deploy the net, and the Shark Spotters who will monitor it) before it's a smooth process. The net will be put out each morning (given suitable conditions) and removed in the evening.
On Friday I spent the morning on the beach, watching the process, enjoying the beautiful calm weather, and taking photos. I spoke to a number of community members – mostly elderly people who come down to Fish Hoek every morning for a swim – and they were unreservedly enthusiastic about this "historic" project.
There is a press release regarding the net here. I suggest you read it. There's an album of photos on facebook, here.