Hi divers
As the seasons change so does the wind and swell. We had good conditions last weekend in False Bay and have had several good days on the bay this week. The highlight must be a dive at Pyramid Rock on Tuesday, with lots of cowsharks and a truly magnificent huge diamond ray chilling in the sand in Shark Alley. Long Beach has also produced a few stunning ray sightings this week.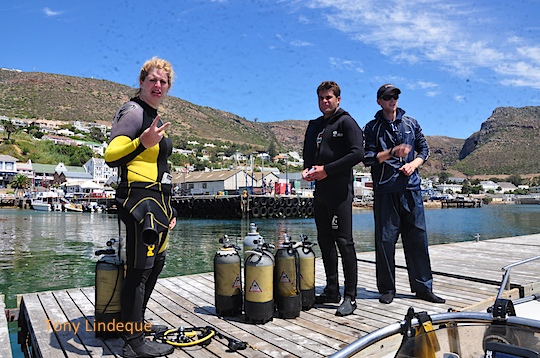 Diving this weekend
The wind today and for the next few days is making it difficult to call for the weekend. The Atlantic, Hout Bay in particular, looks incredibly dark green and I think it is going to take more southeaster than is forecast to clean it up. The temperature off Kommetjie peaked at 19 degrees yesterday so I think the plankton bloom there is going to require some serious wind to clear.
There is a 3.5 metre swell in the bay today and although it drops off from tomorrow the combination of swell and wind don't bode well for the diving on Saturday. We're going out for Clare's birthday lunch on Sunday, so I reckon we will have a dry weekend.
Training
I've got Open Water, Advanced, Rescue and Divemaster on the go at the moment, so a full suite of courses. I haven't forgotten about the Equipment Specialty, but am waiting for things to slow down a bit and for us to get a dining room table at home so I don't have to drag you all into the garage…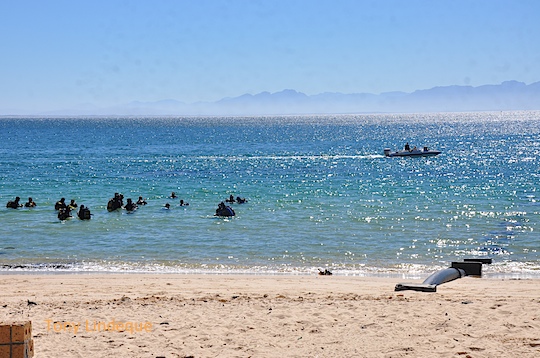 Travel
We are planning (slowly) a trip to Durban with a day trip to Aliwal Shoal (if conditions justify it) for a six dive/four night package from 14-18 June. We will leave Cape Town on the Friday afternoon or early evening, and dive Saturday, Sunday and Monday, and fly back on the Tuesday. Monday 17 June is a public holiday.
We will stay at Anstey's Beach Backpackers which has a range of self catering options ranging from about R120-R200 per person per night.
The dives in Durban with Calypso are R260 per person per dive (there's a surcharge for far sites) excluding gear. Rental of tanks and weights is R100. You can read more about the Durban dive sites here. The Aliwal Shoal dives are R435 per dive including tanks and weights. We will only pop down the coast if conditions are truly special, as the dives are a bit pricey to waste on unpleasant weather and water. If the weather is really bad everywhere and you're desperate to get wet, we have the option of diving in two of the tanks at the aquarium in Durban.
There's also return flights to Durban (for you to book), meals, and car hire to factor in. Cars can be shared among the group once we know how many people are coming. If you're interested let me know and we'll set the ball rolling. For this trip you'll need your own SMB, and an Advanced qualification. Nitrox would be an advantage.
Also a reminder that we'll be booking our Red Sea trip at the end of March. We're looking at the Northern Wrecks and Reefs itinerary with Blue O Two, sometime in October. You'll need a dive computer and an SMB of your own if you plan to join us on this trip as well as minimum Advanced.
regards
Tony Lindeque
076 817 1099
www.learntodivetoday.co.za
www.learntodivetoday.co.za/blog/
Diving is addictive!