Hi divers
So 2012 came and went faster than expected and here we are almost halfway through January. Time to plan Easter yet? We had a short, chilly trip to Denmark after Christmas and the pictures in this newsletter are from the aquarium at Tivoli Amusement Park in central Copenhagen. We even saw a piranha!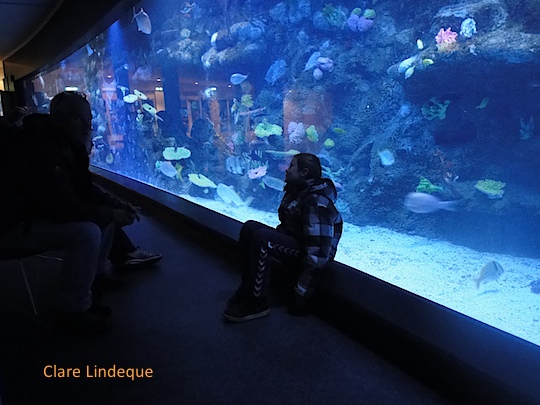 We did not get a whole lot of good diving days during December and in fact had some days of 1 metre visibility. We have seen the wind turn this week and the bay become slightly cleaner but the last few days have been around 3-4 metre viz in most places. There are claims of better visibility further out in the Bay so if nothing changes dramatically this weekend will be a bit better a diving weekend than the last few.
The current water temperature in False Bay is 19-20 degrees and believe it or not the Atlantic (according to a data buoy off Kommetjie) has been just above 20 degrees since 9.00am today. I will spend Saturday doing shore dives, either at Long Beach or Windmill/A Frame, and will launch out of the Yacht Club on Sunday. I think the best bet would be the dive sites around Roman Rock but we will look for the cleanest water. Text me if you want to be on the list for Saturday or Sunday.
We are planning a trip to Aliwal Shoal (near Durban – google it) in April for Advanced divers (you need to be a strong, confident boat diver), and a possible Red Sea trip later in the year. If you have some interest in these then send me a mail I and I will send you a few details.
regards
Tony Lindeque
076 817 1099
www.learntodivetoday.co.za
www.learntodivetoday.co.za/blog/
Diving is addictive!