Hi divers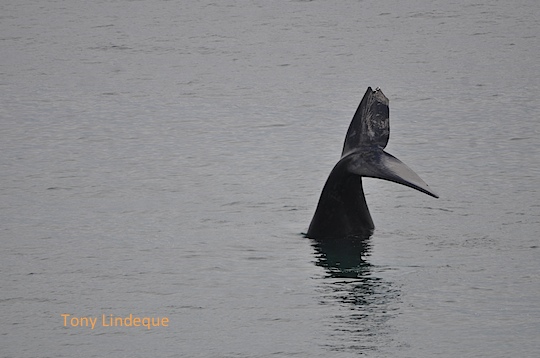 We took a trip up the coast to De Kelders in search of whales on Sunday and stayed until Wednesday. From the balcony of our B&B, less than 100 metres from the shoreline, we were able to spend hours watching mothers and calves frolicking in the shallows. We also took a boat trip with Marine Dynamics where they get really close to the whales. We were fortunate to see at least two pearly white juveniles and some really huge mothers. We also took a tour of an abalone farm, and visited a dive centre, Scuba Africa, in Hermanus and will plan a weekend of boat diving up there sometime soon.
Whilst we were photographing real live whales there was a carcass of a 15-odd meter whale on the beach in Muizenberg. Sadly it seems this was loaded onto a low-bed truck and taken to a landfill somewhere. I would have thought towing it out to sea for the sharks and other creatures to feed on would be a better option but given the forecast southeaster for this week it would most likely have ended up back on the beach. Thanks to Maurice for the photos of a whale on Vanguard drive!
Last weekend
Perhaps a seasonal thing, the sevengill cowsharks have also disappeared (temporarily I assume) and very few have been seen over the last few weeks. We had divers there last weekend and despite an exhaustive search they didn't find any. Neither did any of the other twenty or so divers who were doing shore entries at the same time! We also dived Ark Rock and played with some very friendly young seals there. While we were on the boat we were visited by an extremely curious cormorant. Unfortunately we only had chocolate on board.
This weekend
Talking of southeasters, it seems summer is starting to make its way here and the southeaster is a sign of warmer days and some cold Atlantic diving. Reports from the "city" guys are that the visibility is around 15 metres at the moment on the Atlantic shore and thanks to a week of southeaster the False Bay shore has less than 3-4 metre viz.
I doubt there will be any point diving in False Bay. The forecast is for strong wind Saturday and even stronger on Sunday, from the south east at 30km/h on Saturday and 35 km/h on Sunday. This does mean Atlantic, but where? I reckon we should launch from OPBC and dive North and South Paw with Justin's Caves as an option. The mountain protects the coastline there from the wind and the southeaster cleans the water. If you want in, let me know. We will launch on Saturday.
regards
Tony Lindeque
076 817 1099
www.learntodivetoday.co.za
www.learntodivetoday.co.za/blog/
Diving is addictive!