Hi divers
For the last few weeks its seems like we have been on a rollercoaster of wind, sun and rain.
Sadly the lows on the rollercoaster – good weather days – have fallen midweek for the most part and there has been no weekend diving. Luckily this weekend it's almost the opposite and you can see we are in for at least two good days, tomorrow and Saturday. OK, lets call it one, Saturday. The wind, of which we have had lots, is from the right direction to clear the bay, but the run off from all the rain makes the inshore sites dirty. I drove along the coast today and although the water is not crystal clear close to shore, it looks really good further out and the further south you go the better. The swell is from the south west so it is not affecting the bay much.
Last weekend the wind strength and the rain put paid to the Cape Town Dive Festival and the dates are now the 8th and 9th of September. If you missed out on your chosen dives book now as there have been some cancellations from the up country folks and this has made space for those that hadn't booked.
You can see the rain and wind had a profound effect on the mountain and it started leaking cappucino.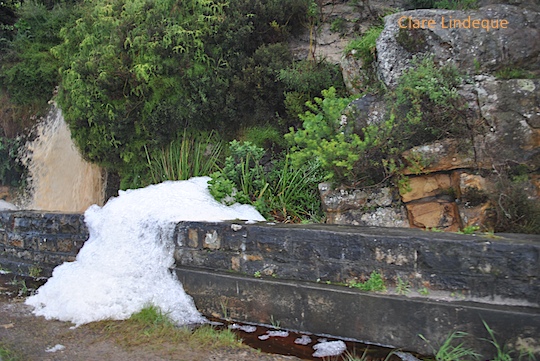 This weekend
I am planning two launches on Saturday and will aim for the warmer day time temperatures so we will launch at 9.30 and 12.00. I do always prefer to have the sites to be the divers' choice so look on wikivoyage and pick something southish… Like Atlantis, Partridge Point, Batsata Maze, etc., and text me your choices with your desire to dive (for some I know this is very high). I am going to be out on the bay tomorrow and will have a look at all the sites I have time for to make sure the visibility is good for Saturday.
Sunday may be an option for a launch, but it's looking windier than I prefer and rainier than Saturday, so at this stage I'm unsure. If you have a burning desire to dive on Sunday give me a shout and I'll see if I can make it happen.
Training
The only training I have done in the past couple of weeks has been "how to use an umbrella". Sadly its not a diving course but you do get wet. I have an Open Water course starting this coming week – at least conditions in the pool are not weather dependent!
I don't watch too much Youtube stuff, but Christo sent me this and I have not stopped laughing for days. If you or someone you know has ever not quite understood how a new piece of technology is meant to be used, watch this.
regards
Tony Lindeque
076 817 1099
www.learntodivetoday.co.za
www.learntodivetoday.co.za/blog/
Diving is addictive!