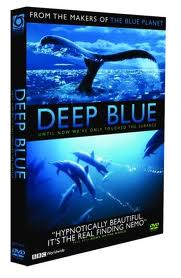 Deep Blue is a feature-length film comprising some footage from the BBC's Blue Planet series (highly recommended) as well as previously unseen footage. Over 7,000 hours of footage were edited down to the original eight hour Blue Planet series, so there was a lot of material to work with. About 25% of the film is previously unseen footage. We watched the Blue Planet series some time ago, and only a small portion of the film looked familiar to me.
It is narrated by actor Michael Gambon, but the narration is very sparse and no effort is made to give the viewer a science lesson. Most of the sound comes from the musical soundtrack, allowing an immersive, almost purely visual experience that I found extremely relaxing. (Footage of orcas chasing a baby gray whale, and coming ashore in Patagonia to hunt baby seals was not relaxing, but those were pretty much the only exceptions.)
Some may be perturbed by the lack of explanation of what is happening on screen (in most cases, the creatures depicted are not even identified), but this film offers an emotional appeal rather than a reasoned or scienfic one. I can imagine showing it to someone who doesn't know or care for the ocean – it's completely absorbing and transporting.
If you're looking to learn something about the ocean from a DVD, I'd suggest you start with Blue Planet. But if you simply want to feel something (and there's room for that in all human endeavour), this is a good place to start.
The DVD is available here if you're in South Africa and here if you're not.