Hi divers
We have an incredible bay on our doorstep and I could spend every day for the rest of my life either on or underwater in False Bay. Granted, the weather does play a hand in this and we have had many stay at home weekends over the last month but this last week has been exceptionally good and the conditions look set to stay so for a while.
We dived several days in the last week and have had really good visibility, yesterday being the best with such clear water at the cowsharks that you could see the sharks swimming below from the boat. We launched from the Yacht Club in Simon's Town and the boat ride down to Miller's Point was like driving a boat in a bathtub.
Clare took a trip to Seal Island on Wednesday on the Shark Spotters research vessel (as a guest – very lucky!) and can confirm there are white sharks there… and a couple of seals.
Yes, that is Clare on the shark research boat (she's in the cabin in this picture)…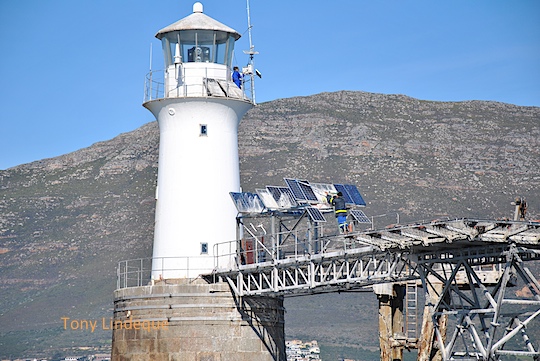 Yes, real live people on Roman Rock! The weather station at Roman Rock has been down for a while and here you can see the maintenance guys sorting it out.
Something seems to be messing the water colour up around Long Beach and the harbour swing moorings, and the water there is a murky brown. Rumour has it the pipeline we dive along from Long Beach is currently active and where we have always thought that the "broken" section was the old pipe, it seems likely this is the new sewage pipe. Being broken, it's pumping effluent into the water close to shore… This has not yet been confirmed but there are people on the case.
Sadly the SAS Pietermaritzburg wreck has been worked on by a salvor and it is rumoured that upwards of 20 tons of steel and brass has been removed. Being less than 60 years old it does not have historic protection but a meeting has been called on Monday at 5.30pm where we as divers can all show that we want it protected. Either be at the meeting (at the Simon's Town Museum) or sign the petition here.
Weekend dives
This weekend we will avoid shore dives as I am unsure of the status of what is or is not being pumped out close inshore. I don't want anyone to get typhoid, bilharzia or jungle fever from diving in raw sewerage. Instead we will head south, very south, as the visibility is stunning south of Photographer's Reef and should not be wasted. There is a little south east wind on Saturday and almost none on Sunday. The swell, just under 2 metres, is a very westerly swell so it won't affect the bay in any significant way.
Two things about this weekend: the False Bay Yacht Club have a regatta on Saturday so we will need to use Miller's Point for launches. The snoek are running in the bay right now so unfortunately there will be a lot of fisherman there and there may be a few delays. Bring your serene face.
Saturday:
Batsata Maze & the SAS Pietermaritzburg or Atlantis.
Sunday:
MFV Princess Elizabeth & Caravan Reef or Finlay's Point.
Please get your MPA Permits up to date at the post office. Also, there are still some spaces available at the Cape Town Dive Festival – some additional boats have been added. It's going to be a very enjoyable two days. Check out the Dive Festival website and get booking if you haven't done so already!
regards
Tony Lindeque
076 817 1099
www.learntodivetoday.co.za
www.learntodivetoday.co.za/blog/
Diving is addictive!