Dolphin Confidential – Maddalena Bearzi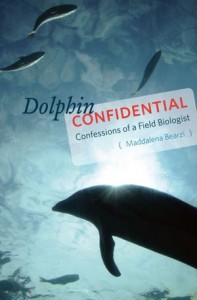 This is a deceptively light, quick read by marine mammal researcher and conservationist Maddalena Bearzi. There is much to be gleaned from this book, and the whimsical line drawings here and there belie its strong conservation message and the scientific knowledge of dolphin behaviour that is imparted to the reader through accounts of observing dolphins in the wild. Interwoven with her fascinating life story, involving travel to all corners of the globe to study reptiles, sea turtles, and dolphins, is a fair amount of information about cetacean behaviour and life cycles. She is the co-founder (with her husband) and President of the Ocean Conservation Society, which undertakes various research projects using their fabulous (donated!) research vessel and a staff of volunteers and scientists.
Bearzi describes the activity of gathering data on cetacean behaviour while at sea, describing the excitement and wonder of observing dolphins at play and on the move, as well as the frustrations – not finding the dolphins, inclement weather conditions, differing personalities on the boat, seasickness, and the minutiae of life as a researcher in the field. She also points out how difficult it can be to interpret behaviour – dolphins lack limbs to reach for and manipulate items, and their immobile faces (while they may appear to be smiley all the time) do not show facial expressions. This sometimes makes it tricky to decide exactly what a specific behaviour means. While marine research may appear to chiefly involve lounging about on a boat, there are many hours spent translating observational data into quantitative data and drawing conclusions about what the behaviours mean. Bearzi and her team also take samples, for example of fish scales suspended in the water after dolphins have been feeding. This assists them in identifying the exact components of the dolphin diet.
Much of Bearzi's work has been with the "metropolitan" dolphins of Los Angeles' coastal waters. She observes first hand the impact of pollution, plastic waste, and human activities on the dolphins as well as on the other marine life around the city. Her strong belief in ocean conservation has led her to run programs in underprivileged school districts, educating children about the need to protect the ocean. She says that while these programs were a roaring success with the children, school administrators lacked the will to keep extra-curricular activities going, and eventually their efforts to run the program hit a brick wall.
Unsurprisingly, Bearzi is strongly opposed to keeping dolphins in captivity, and does not think that swimming with dolphins is a good idea either. (From what I've seen of it, I am inclined to agree with her!) She speaks from a position of strong respect for the creatures she studies and for the spaces they inhabit, and the idea of actually grabbing onto one of them for a photo opportunity would be repugnant to her.
You can buy the book here if you're in South Africa, otherwise here or here. For a kindle copy, go here. It's an enjoyable read with a strong narrative thread. For a young person, particularly a girl, considering a career as a field biologist, it's also an excellent read.