Steps is a long, narrow reef running for about 4 kilometres in a north-south direction, making it ideal for drift dives on days when the current is strong. It's relatively narrow, and ranges from about 13 to 16 metres' depth. The reef is made up of a series of overhangs and gullies, providing abundant habitat for fish and other marine life.
I was happy to see both a male and a female boxy – I love these fish, and their nonchalant ways. We didn't see any large creatures on this dive except for turtles, but I enjoyed the opportunity to try some fish photography. They just won't sit still! Yellow and blue banded snapper are the only ones who oblige the cameraman, as they seem to be remarkably placid and reluctant to break their tight formations over the reef.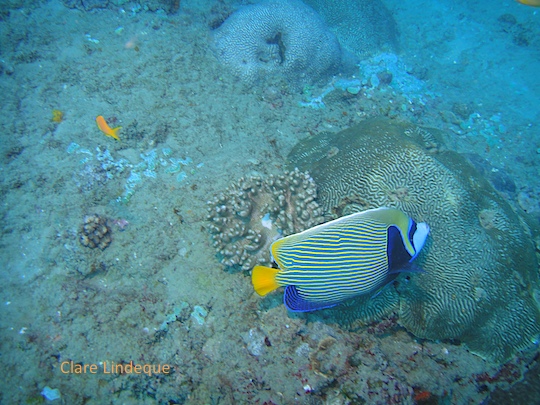 Oddly, I got cold towards the end of this dive, and surfaced for that reason rather than being low on air or time. I think it was because we didn't actually have to swim much, and I'm a lazy finner to begin with. I never believed I'd get cold in 25 degree water, but with a lowered core temperature from dives earlier in the day it can happen!
Dive date: 9 May 2012
Air temperature: 25 degrees
Water temperature: 25 degrees
Maximum depth: 15.2 metres
Visibility: 10 metres
Dive duration: 58 minutes