Positioned at the end of the Twelve Apostles mountain range (and thusly named), 13th Apostle reef is a distinct mass of granite boulders surrounded by a sandy bottom. Waves have long been observed to break here in bad weather, but the reef was only dived for the first time late in 2010. It's quite a long (13.3km) boat ride from Hout Bay, near Llandudno.
We visited it on a day when surface conditions were somewhat choppy despite the lack of wind, and the boat ride there felt endless. And wet. Visibility, however, was stellar – when my buddy failed to arrive at the bottom I was forced to resurface, and on my way back down I could see Tony and Vanessa 15 metres below me. They, in turn, could see my legs and the boat while I was on the surface.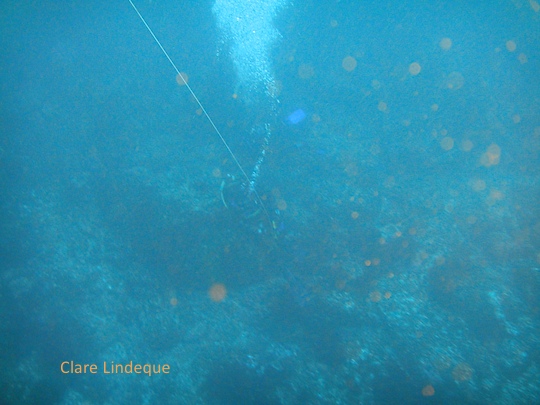 The top of the reef is between 6 and 10 metres deep, punctuated by deep cracks. There are in fact a couple of swimthroughs and overhangs, one of which forms a very large cavern. The reef itself has kelp growing on top and down to at least 15 metres which, as Peter Southwood points out, implies that light often penetrates to that depth, in turn implying frequent good visibility at the site. There is the usual covering of urchins, sea cucumbers, sea squirts, sponges, soft corals and hydroids.
Tony found me a beautiful basket star, and I discovered a brooding cushion star – an unusual sea star that makes me crave refined carbohydrates. We also saw large numbers of west coast rock lobster and schools of hottentot. Parts of the reef were covered by dense schools of baby fish – the Atlantic is very fecund.
This reef has a distinct edge, and while it's quite large, if you land on it you probably won't get lost. It feels quite far out to sea (it isn't, really) and it's essential (as with all Cape Town boat diving) to have an SMB to deploy before you surface. Tony in fact sent his up with me when I ascended early in the dive to look for my buddy. I descended on the line and found him and Vanessa at the bottom.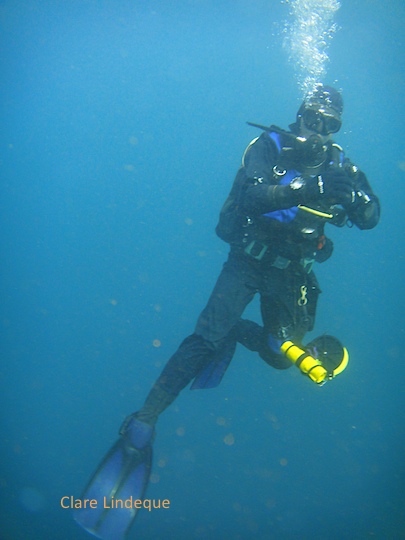 Dive date: 25 March 2012
Air temperature: 26 degrees
Water temperature: 10 degrees
Maximum depth: 25.8 metres
Visibility: 15 metres
Dive duration: 30 minutes