In his post about Long Beach Tony has mentioned that it constantly serves up wonderful surprises in the form of creatures not usually seen elsewhere. Some of these are visitors who get washed into False Bay on eddies of the warm Agulhas current, and then end up behind the harbour wall through an accident of winds and current within the bay. In late January we were treated to two sightings (on the same dive) of some of these visitors.
Smooth flutemouth (Fistularia commersonii) are not usually seen further south than Mossel Bay. They can grow to 1.2 metres in length; since the ones we spotted were about 30 centimetres long, it's safe to assume that they were juveniles. We saw them swimming in a loose group of 4-6, with grimly determined little faces. They are almost the same colour as the sand, so you have to look carefully in the picture above to spot them.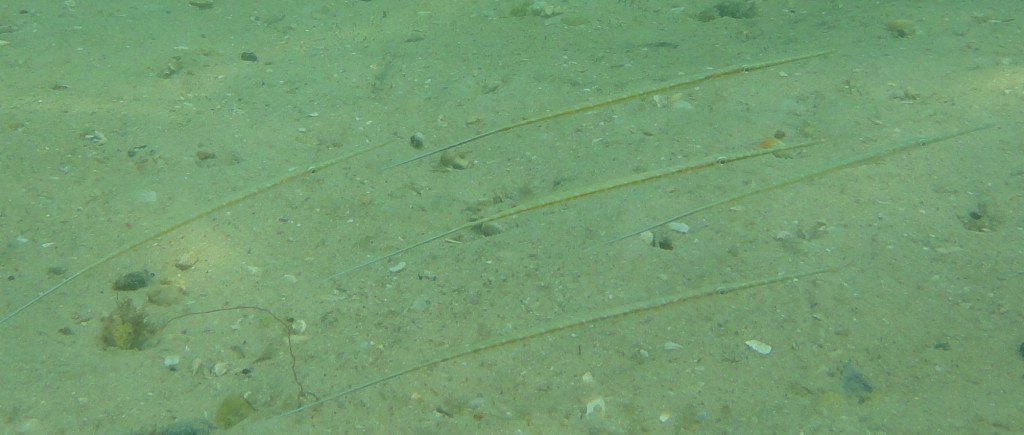 They feed on other fish – according to Coastal Fishes of Southern Africa their preferred prey includes moray eels (small ones, I guess!), snake eels, pilchards and damselfish. They stalk their prey, and when they are close enough draw their bodies back in an S shape to strike like a snake. They will sometimes use other herbivorous fish (such as parrotfish) as a stalking horse to approach its prey, swimming alongside the other fish in order to avoid spooking their target.
On the SURG website there are records of two other sightings of flutemouth in Cape waters (there have undoubtedly been others). There is another kind of flutemouth, the serrate flutemouth (Fistularia petimba), which is usually found in deeper water north of Walvis Bay. It is reddish brown on top, wheras the smooth flutemouth has an olive upper body (when fully grown) and blue lines or spots down the side of its body. I think these flutemouth are of the smooth variety – a blue line is visible running down the side of their bodies. Click the second picture to enlarge it.
This next image is the same as the one above, but with more contrast so you can see the colours of these little fish a bit better: