Last July/August, Tony and I took a trip to Denmark (via the Netherlands and Germany) to see family, and then to Malta, to dive. We flew to Amsterdam with KLM, and then drove to Copenhagen. On our way back, we did the same trip in reverse.
Being fond of the sea, we visited every single little harbour that we passed – and in Denmark, there are many. Lots of Danes own sailing boats, and in summer they put them into the water and take advantage of the long days and calm seas to explore the coastline. When Tony lived in Denmark he had a boat shop, and would travel to all the little harbours doing repairs, deliveries and fittings to the boats moored there.
As we travelled away from Copenhagen (we drove west across the island of Funen to Jutland, and then south towards Germany) we started to notice moon jellies in a lot of the harbours we stopped at. These photos were taken at Aabenraa (say it loudly as though you're at the dentist).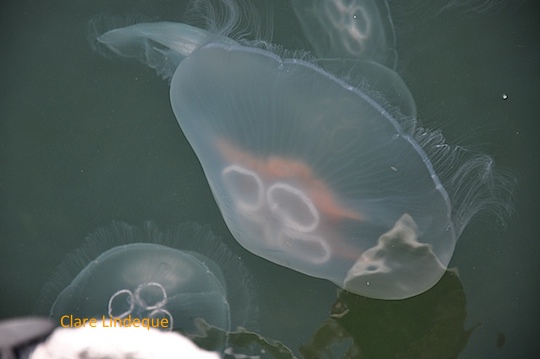 Moon jellies are found almost throughout the entire world's oceans, and can form extremely dense concentrations that interfere with some aspects of human activity (such as cooling power stations with sea water, for example). The pinkish curly features you can see in the photos are their gonads.