Hi divers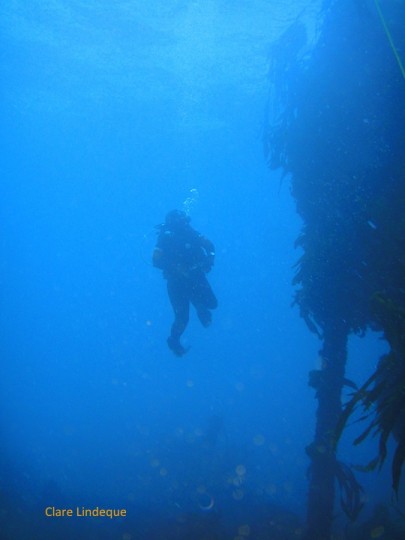 Recent dives
Last weekend delivered up some really spectacular boat dives on Sunday, with 20 metre visibility (and 9 degree water!) on the Katsu Maru in Hout Bay and only slightly less on the Maori. As you can see from the picture of the BOS 400 below, the surface conditions were also ideal. We had reports that a plankton bloom started in Table Bay early this week, straight after the weekend's dives. The hot weather makes the plankton in the clear water that upwells from the deep ocean grow like crazy, which is why you have to dive very soon after the southeaster stops blowing to take full advantage of the good visibility.
We were actually also fortunate on Saturday – the pool leaked half its contents out during Friday night, so I had to take the new Open Water divers to do their confined skills at Long Beach. Conditions were not half bad. This week I've been doing a fair amount of diving in False Bay and the temperatures have been between 17 and 19 degrees, with fairly respectable visibility of about 5 metres.
Weekend dives
Big wave surfers are rubbing their hands with glee because on Friday evening a huge swells roll onto our coastline. This pretty much rules out ocean dives on Saturday unfortunately.
So on Saturday I will be in the pool with students. If you have new gear you've recently acquired, can I encourage you to come and spend some time in the pool getting used to it – it costs R50 and you will not regret it. The open ocean is not the place to discover that your new BCD doesn't work as you expected it to.
Unfortunately conditions for boat dives look very iffy, and we will have to make a decision late on Saturday as to whether we'll do the early launch on Sunday (if there is one).
I have a full diving schedule next week with tourists and students. If you'd like to join in on any of the days, please let me know you're keen and we can make arrangements for a cylinder and/or gear for you.
Finally, I'm going to keep reminding you about our planned Mozambique trip (7-12 May). You don't have to commit yet, but you do need to think about all the possible reasons why a tropical diving holiday is a good idea. I can't think of a single reason why it wouldn't be…
Regards
Tony Lindeque
076 817 1099
www.learntodivetoday.co.za
www.learntodivetoday.co.za/blog
Diving is addictive!