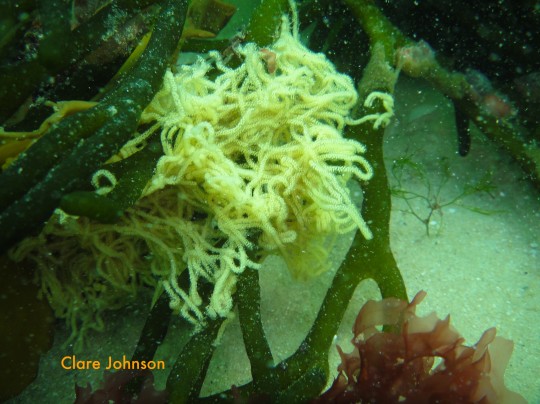 I find it very hard to identify eggs, unless (see below) I catch the creature in the act of laying. Then there's no doubting their provenance. We see a lot of the two minute noodle kind, above, at Long Beach, but I am not sure who lays them. Does anyone know?
Orange clubbed nudibranchs live on kelp and have a very particular bryzoan diet. Their eggs are usually found near their food.
Shark egg cases – also referred to as mermaid's purses, and much beloved of little girls at the aquarium – are easy to identify. Catshark egg cases are slightly larger, and usually whitish in colour.
We also see a lot of scaly dogwhelk eggs. Each little compartment has several eggs (the little yellow balls) in it. Only one snail will emerge from each compartment, however – the first hatcher or strongest whelk will eat all the other eggs he's been sharing space with.
No one seems quite sure who lays these beautiful, pearlescent eggs, apart from the fact that it's some kind of whelk. Tony found a pink lady with two of these eggs on its shell… So far that's our best guess as to who they belong to!
Finally, here's a warty pleurobranch caught in the act of laying its eggs. It has allowed the egg ribbon to get twined around some of the sea grass at Long Beach.