Archaeological Oceanography – Robert D. Ballard (editor)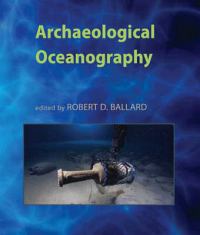 Robert D. Ballard is the man behind the discovery of (amongst other shipwrecks in the deep) the Titanic where she lies in her final resting place. He's the author of several books I've reviewed here, most of them aimed at a lay audience.
This is a more scholarly, textbook type work, with contributions from a number of his colleagues at Woods Hole Oceanographic Institute and from elsewhere. Ballard acts as editor, advisor, and author of a couple of chapters.
The book deals with discovery, archaeological study, and – to a lesser extent – preservation of shipwrecks, ancient and modern, in the deep ocean. Ballard has worked extensively in the North Atlantic, Mediterranean, Pacific Ocean and Baltic Sea and the chapters in this book draw on specific projects from these locales. There are ample illustrations (my favourite part!) showing everything from sonar search patterns, the tethered ROVs in action, to photomosaics of wreck sites, to paintings of massive shipwrecks as they now look (a photograph showing the entire Titanic, lying as it does in the darkness at 4000 metres, is impossible). The artist for most of these is Ken Marschall, and if I could find an entire book of his work – eerie, awe-inspiring and accurate – I'd buy ten copies!
This isn't a light read, but as a reference for anyone who is particularly interested in underwater oceanography, ROV and submersible technology, or the intersection of oceanography and archaeology it is invaluable.