Hi divers
Happy new year! I've been out of the water for a week after emergency appendix surgery. Apologies for the lack of newsletter last week – I think we were on our way to the trauma unit for the second time in two days!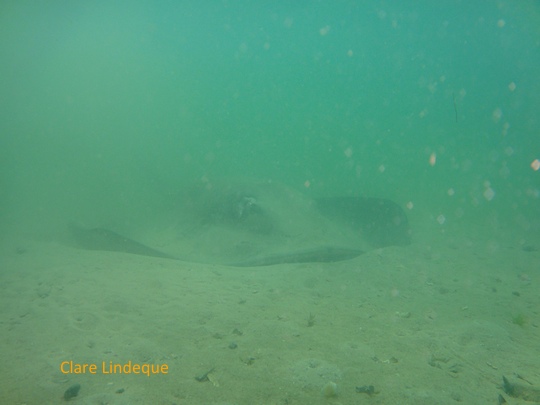 Last year ended and the new year started well, with some very pleasant dives. The water in False Bay has had tolerable visibility and been very warm for the last few weeks (as much as 23 degrees on the surface) and we've been thrilled to catch sight of the giant short-tailed sting rays that visit close inshore during the summer months. We saw our first ray of the season in mid October, and by the end of February they're usually gone.
The pictures in this newsletter were all taken on a single dive at Long Beach, and show two different rays. These huge animals are quite harmless to divers, and typically rest on the sand in giant holes that they dig looking for white mussels and other good things to eat. Usually the first thing you notice when approaching them is that the visibility drops to about 30 centimetres, as they push sand over their bodies in great clouds, and they blow into the sand to dig out their prey. If you stay quiet and still, they will allow you to watch them for quite some time.
Open Water courses
While I'm out of the water I'd like to get the Open Water dive theory out of the way for those of you who are still busy with your courses. You know who you are! On Tuesday and Thursday evening next week (the 17th and 19th) I'll be holding theory sessions at home in Kenilworth from 1900 until about 2100 (times can be adjusted if you want). If you behave, Clare will make you coffee and cake. Please send me an email or a text message if you're able to attend one of these sessions. We'll do your quizzes and exam, and learn about dive tables.
Boat dives
For those of you who are qualified, Grant is doing two boat dives early on Saturday morning before the wind picks up. I won't be diving, but if you're keen to get in the water let me know and I can assist with arrangements.
Travel
We're going to work up some pricing for a dive trip to either Sodwana or Ponta do Ouro in southern Mozambique, hopefully to take place in late March. I'll keep you posted…
I'm planning on being back in the water next weekend, all going well.
regards
Tony Lindeque
076 817 1099
www.learntodivetoday.co.za
www.learntodivetoday.co.za/blog/
Diving is addictive!