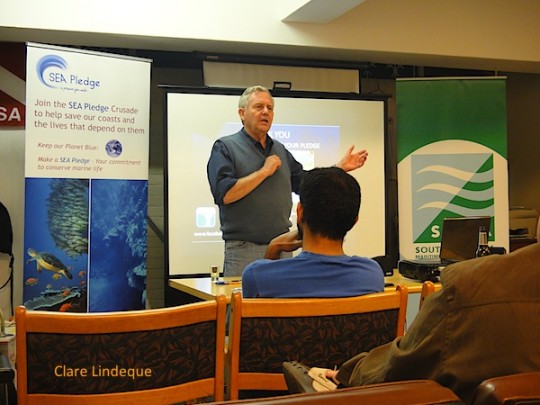 A couple of weeks back Tony and I took our weary selves off to OMSAC to listen to a talk by Dr Anthony Ribbink of the Sustainable Seas Trust (SST). He and his team have spent a good couple of months on the road, travelling the length of South Africa's coastline from Sodwana to Saldanha. They have been visiting yacht, boating, angling and diving clubs, and any other organisations related to use and enjoyment of the oceans.
Their aim is to encourage water users and coastal dwellers to make a SEA Pledge: a promise to take concrete, measurable steps to live in a more sustainable manner, decreasing their negative impact on the planet and increasing their positive impact. These pledges don't have to involve massive steps – in fact, promising to do something that's actually attainable will probably make it easier for you to keep your pledge! Examples of pledges could include:
Walking, cycling, taking public transport or sharing transport to work at least one day per week
Recycling the water from washing dishes to use on the garden (and using a biodegradable detergent, of course!)
Turning off lights as you exit rooms in your home
Using energy efficient lightbulbs
Eating sustainably fished seafood (from the SASSI green list)
Recycling glass, paper, and plastic
Safely disposing of expired medications and broken electronic equipment
Starting a worm farm in your garden for wet waste, to create compost
Purchasing a reusable water bottle and using it instead of buying bottled water
Showering rather than taking baths
Buying fruit and vegetables that are in season, and grown locally
The possiblities are only limited by your imagination. The best pledges are specific and list actions to be taken. Saying something like "I pledge to live sustainably and respect all living creatures," while charming, will make it difficult for you to evaluate objectively in a year or a decade's time whether you actually made a difference and kept your pledge.
This Saturday, 3 December, is the day chosen for individuals to make their SEA Pledges, co-inciding with the United Nations climate change talks (COP 17) that are taking place in Durban at the moment. If you'd like to make a pledge, you can visit the SST website to make one. Visit the Sea Pledge page on facebook for more. You can also participate in an event that is aimed at raising funds for SST. Indigo Scuba in Gordon's Bay are doing boat dives and holding a braai on 3 December to raise funds for SST.
SST will also be delivering a petition to the United Nations asking the body to protect oceans and coasts. Everything I know about the UN makes me think it's mostly fairly toothless, but one HAS to engage with governments and international bodies as well as taking action (i.e. a SEA Pledge!) on one's own.
The Sustainable Seas Trust is a remarkable organisation that I am very glad to have heard about. Their work is far ranging and what I liked about their projects is that they recognise the complexity of the conservation issues related to the oceans. They work with coastal communities who would otherwise be forced to harvest (often illegally) ocean produce to survive, and through their SEAS Centres they provide education, skills training, healthcare services, and dignity to local residents. By uplifting the individuals who live close to the coast, the SEAS Centres will have a positive effect on the coastal environments that were formerly stressed by having to provide subsistence livelihoods to coastal dwellers. If you're looking for a charity organisation to donate time or money to, or an organisation to support by means of your company's social responsibility programs, SST is an excellent candidate. Go and browse their website to find out the full scope of their activities.