Hi divers
To everyone that voted for us in the SA Blog Awards we say thank you very much, but we did not make it to the finals. Oh well.
This time of year most people start winding down in preparation for Christmas; often nothing much happens in the office and you might not even be missed if you slip out and go for a dive. Here's a secret… Go online and buy all your Christmas presents now! Then every morning you can claim that you're out shopping for a different member of the family. You will be surprised at how long you can milk this excuse with your boss… Try it!! (I cannot be held liable for dishing out bad advice.)
Use this early morning time for a few very pleasant early morning dives. The first year I was in Cape Town I spent a lot of time learning the dive sites, often ready to go in the water by 6.30 or 7.00 am. You will be pleasantly surprised at how often the wind is absent, no traffic and no people around… Come and try it this summer, you can be in the office by nine.
What we have been up to
Last weekend was very odd. Friday I was stunned by the crystal clear blue water of the Atlantic. Saturday we did two boat dives in pea soup (see above) and the visibility only opened up at 20 odd metres so it was very dark. I was fortunate enough to see a huge sunfish swim slowly by – this was the first time I have ever seen one underwater. Two years ago I spent 10 days in Table Bay driving a boat for a film shoot and we saw several sunfish daily on the surface. Clearly this time of year is their chosen time to visit us so hopefully we will get to see more of them.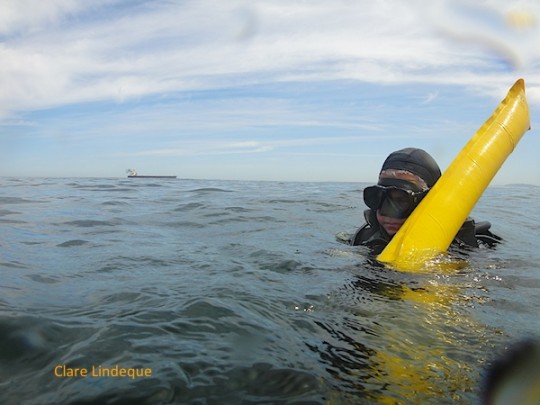 Sunday I had a bunch of new students and we spent the entire day in the clean warm (26 degrees) pool. I dived with these new students on Monday in False Bay with a good 6 -8 metre visibility and on Tuesday, since they were on a tight schedule, they had to brave 2 metre visibility to complete their course. It never ceases to amaze me the speed at which the ocean conditions can change.
This weekend
On Saturday we will be in False Bay, where, I can't say, but I will look for the best site. Given the winds we have had this week it's a difficult call until we get there; I will also have a look tomorrow to see how the water looks. Either way we will meet at Long Beach at 9.30am and move on from there.
Grant will launch from OPBC on Sunday and I am booking for both launches, the first, a wreck called the Highfields and the second a wreck called the SS Cape Matapan. I have yet to dive from OPBC without seeing the permit checkers drive through or lurking in the vicinity, so make sure you have a valid dive permit. Please also remember that boat dives are now R220 per person, per dive.
Please let me know if you would like to join us on any dives this weekend, and I will do my best to make it happen.
regards
Tony Lindeque
076 817 1099
www.learntodivetoday.co.za
www.learntodivetoday.co.za/blog
Diving is addictive!