Hi divers
First up, the bad news: there will be no diving in False Bay this weekend. (The Atlantic is a small possibility, maybe on Sunday, but we will wait and see.) The reasons for this will become clear as you read on.
Last weekend's diving
Last weekend we did JP's first sea dive at Long Beach in Simon's Town. Conditions were fair, with visibility of about 4 metres and patches of cleaner water. There's an album with some photos from last weekend on our facebook page, here. I was also in the sea at Shark Alley and Partridge Point early in the week, and conditions were patchy (about 4 metres visibility) and deteriorating owing to a massive, continuing plankton bloom.
Pelagic shark diving
Today I spent the day on the Shark Explorers boat, far out of sight of land, on the edge of the continental shelf at a location known as the "Tuna Grounds", where the water is over 350 metres deep. We were diving with pelagic sharks – sharks like blues and makos that live in the open ocean. A tuna also popped in to say hello, as well as hundreds of seabirds including several albatross.
It's a two hour boat ride out of Simon's Town, looking for the warm Agulhas current, and although the sea was rough almost all the way there, the water went from chocolate brown in False Bay to green, to beautiful, deep blue. A small chum drum was placed in the water suspended from a buoy, and after about fifteen minutes the first shark arrived. We saw one mako shark, and a large number of blue sharks. We spent over an hour in the water – you descend to about 5 metres and hover within sight of the chum drum at all times. These underwater pictures were grabbed from the video footage I took today – more to follow!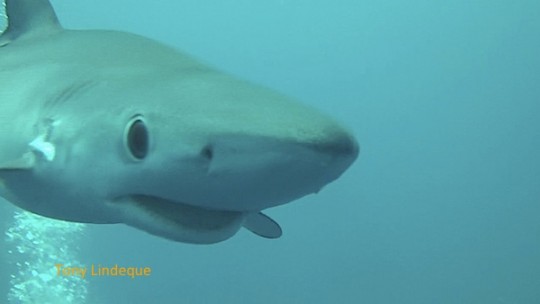 I have done baited shark dives before – with tiger sharks in Aliwal Shoal, and more recently a cage dive with white sharks in Gansbaai. Today's dive was a very different experience to Aliwal Shoal, where the sharks are sometimes whipped into a feeding frenzy and injure themselves biting on the chum drum. The situation can be very tense and uncomfortable for the divers and in fact a diver was recently bitten during one of these dives by a shark that (I think) was in feeding mode because of the chumming, and became confused by the diver's hand and foot movements in the water.
Today's sharks were attracted by the chum drum, but they stuck around because they were curious about the people in the water. They were very interactive, and investigated our cameras and dive gear, sometimes with gentle nibbles. Morne, the Shark Explorers owner, is extremely relaxed with these creatures and very knowledgeable about their habits. A lot of what he did in the water was to prevent the sharks from hurting themselves (for example by biting on the rope of the chum drum).
On the way back to Simon's Town we encountered a pod of 400 or so common dolphins in False Bay, being pursued by a Brydes whale. We are very fortunate to live in such a rich environment that is bursting with health.
As you can imagine, good buoyancy control is essential for a dive like this – the bottom of the sea is so far below that no one is going to come and fetch you if you sink! Also, if you're even slightly prone to seasickness I would suggest some Stugeron or similar… It's a loooooong day on the boat. All of us carried SMBs and were instructed to surface and raise them immediately if we lost sight of the chum drum. The boat follows the buoy attached to the drum as it drifts in the (sometimes very strong) current. If you'd be interested in coming on a trip like this, please let me know so we can arrange a group – I have promised to take Clare with me next time, because she spent the day working in Excel while I was playing with sharks!
Weekend diving
As for the reasons why we won't be in False Bay this weekend, I encourage you to study the following sequence of three photos taken out at sea, near Cape Point, and inside False Bay. I don't want to dive in coffee… Do you? I have several Open Water students and Discover Scuba Diving candidates just itching to get into the water, but for your first sea diving experience I prefer to ensure excellent conditions.
I'll send out text messages if there's a chance of going on the boat to the Atlantic on Sunday, once he sends out a newsletter, or if False Bay miraculously clears up. If you don't usually get these messages and would like to, please send me an email with your cell number and I'll be sure to keep you in the loop.
regards
Tony Lindeque
076 817 1099
www.learntodivetoday.co.za
www.learntodivetoday.co.za/blog
Diving is addictive!
P.S. This blog is entered in the South African Blog Awards and we hope to use it to raise the profile of Cape Town diving a bit. We'd really appreciate your vote, if you enjoy the blog – to vote for us click here or on the banner at the top of the page in the right hand sidebar. You can only vote once, and if you've already done so then many thanks!